As ESG investing grows in popularity, governments worldwide are stepping up regulations to help investors know that when a fund manager says the fund is invested in ESG opportunities, the fund manager has to prove it.
The increasing number of government regulations are attempting to prevent "greenwashing" from continuing. Greenwashing is the act of presenting false information— or misleading investors—about how a company's products and services support environmental, social and governance practices. With greenwashing, a fund promoted as an environmental investment opportunity could, in fact, contain investments with companies regularly emitting carbon waste.
Regulations have been slow to develop, but this year the European Union's Sustainable Finance Disclosure Regulation (SFDR) requirements started in March. This regulation requires fund managers, insurers and banks that provide investing products to disclose how sustainable the products are. By the end of 2021, the EU requires existing and new funds to identify as one of the following:
Fully focused on sustainable initiatives with disclosure language both about how the sustainable initiatives are met and how the initiative will be measured against benchmark references.
Fully or partially focused on environmental, social or sustainability issues with disclosure language required.
Not at all focused on sustainability.
In the United States, the Securities and Exchange Commission this year developed a task force designed to develop initiatives designed to identify ESG reporting greenwashing practices. The SEC also released in April a risk alert, reporting it had identified instances with "a lack of policies and procedures related to ESG investing; policies and procedures that did not appear to be reasonably designed to prevent violations of law, or that were not implemented; documentation of ESG-related investment decisions that was weak or unclear; and compliance programs that did not appear to be reasonably designed to guard against inaccurate ESG-related disclosures and marketing materials."
RBC Wealth Management due diligence
The good news is, global regulations are quickly coming into play. And, even better news is that RBC Wealth Management already has the RBC Global Manager Research (GMR) team in place with a due diligence guide for evaluating and rating ESG managers. This team reviews funds in the RBC Wealth Management Unified Portfolio to determine if the fund can be classified as ESG or not.
In addition to this rating, the ESG Select Portfolios specifically developed for investors interested in ESG investing are constructed using only managers for funds that were identified as ESG funds.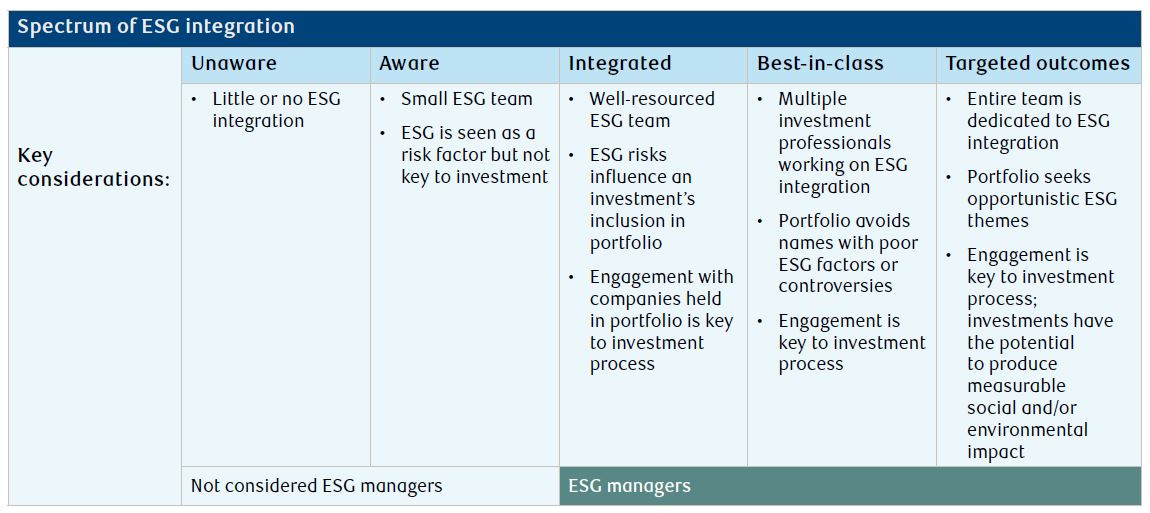 RBC Wealth Management's Global Manager Research team defines several investment strategies as ESG managers. Using the segmentation outlined above, the team delineates and rationalizes which managers are classified as ESG by RBC. Simply because a manager claims ESG integration does not mean RBC classifies them as an ESG manager.
Building a portfolio using ESG regulations
For investors developing an ESG investing portfolio, it's important to check how different funds are measured both in fund performance and the sustainable initiatives the fund is developed to support. Work with your financial advisor to review the GMR due diligence report, and keep watch on how the EU SFDR as well as the SEC task force grow with stronger regulations.