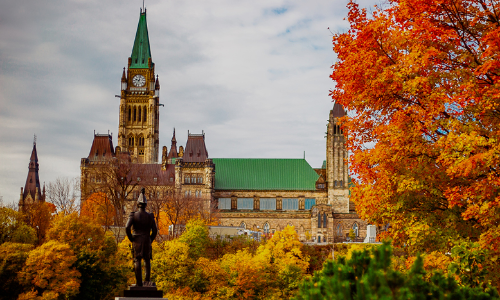 Following a closely contested race, Prime Minister Justin Trudeau's Liberal Party lost support but not its claim to government. Despite losing the popular vote, the Liberals hold enough seats that it would require all three major opposition parties to unite to defeat them in Parliament. Cooperation will still be required to pass legislation, with the New Democratic Party (NDP) looking the most ideologically aligned candidate.
Negative sentiment to persist in Energy industry pending tangible pipeline progress
The Liberal Party's weakened position in Ottawa will do little to assuage fears amongst oil & gas investors and those who derive their livelihood from the industry. At the forefront of a range of issues impacting oil & gas development in Western Canada remains the fate of the Trans Mountain Expansion, which the industry hopes will address the shortage of crude oil pipeline capacity and help diversify crude exports away from the U.S. market. RBC Capital Markets believes that the expansion project is still likely to move forward but with more uncertainty than before the election.
The Liberal Party win failed to claim enough seats to form a majority government
Canadian election 2019 final seat tally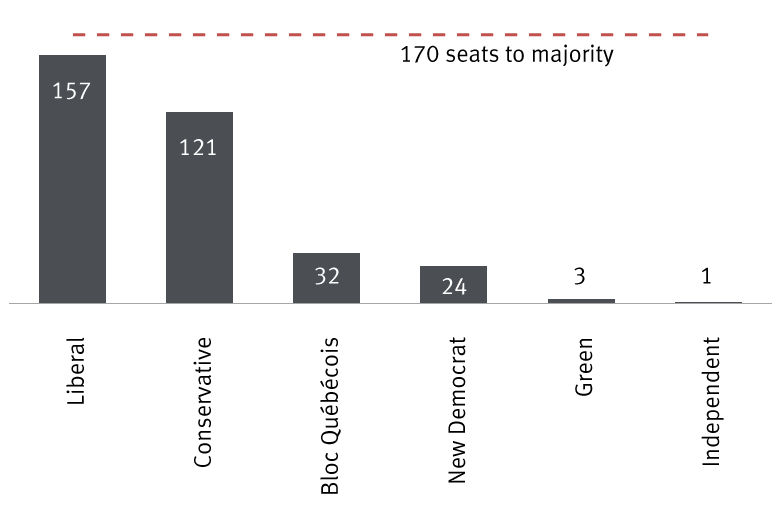 We believe that the Liberal Party remains committed to the project, particularly after spending CA$4.5 billion to purchase the existing Trans Mountain Pipeline and the related 690,000 barrels per day expansion project just last year. However, under a Liberal minority government, tangible construction progress may be delayed by a need to consult with other parties such as the NDP that campaigned on a promise to cancel the project.
The Trans Mountain Expansion does not require parliamentary approval to move forward, but it will be incumbent on the Liberals to ensure that their pursuit of the project does not lead opposition parties to stymie their ability to conduct other parliamentary business. As the Liberals will need to find the necessary compromises on other issues to gain support (or a lack of resistance) for the expansion project, we believe the Trans Mountain Expansion could see further delays, with potential completion in 2022 or 2023.
Heated campaign rhetoric likely to be tempered but headline risk remains for Telecom industry
The Telecom industry often finds itself having to weather political storms, and this campaign proved true to type as politicians across party lines promised to reduce Canadians' wireless and internet bills. Past precedent suggests that these promises tend to be more bark than bite, but we must acknowledge elevated risk amid the Canadian Radio-television and Telecommunications Commission's (CRTC) ongoing review of the wireless industry.
RBC Capital Markets believes that incremental measures to increase wireless competition and/or lower pricing are a virtual certainty but that the review is unlikely to be overly disruptive. While lower wireless pricing makes for good campaign fodder, we believe a directive to mandate wireless network access to upstart competitors would make for bad policy at a time when the industry is making critical investments in rural connectivity, next-generation 5G networks, and wireless spectrum.
Concerns regarding wireless pricing in the wake of the introduction of unlimited data plans earlier this year and the CRTC wireless review have proven to be an overhang for Telecom equities despite a supportive interest rate environment. We believe the prospect of cooperation between the Liberal minority government and the NDP increases the risk that populist rhetoric remains aimed at the industry.
While our base case is that any changes to market structure should be manageable for incumbent operators, the industry will likely remain subject to headline risk until the conclusion of the wireless review in the first half of 2020.
Need for cooperation raises the prospects for wider fiscal deficits
Potential cooperation between the Liberals and the NDP suggests wider fiscal deficits as these two parties stood out as the most ambitious with respect to their spending targets. The Liberals projected a deficit in the range of CA$27 billion in the first year of their new government on the back of tax cuts and various investments, while the NDP proposed a roughly CA$33 billion deficit due to expanded social programs and a national pharmacare plan.
Despite net losses, the Liberals and NDP retain enough seats to set the agenda
Seats gained and lost in the 2019 Canadian election from the 2015 election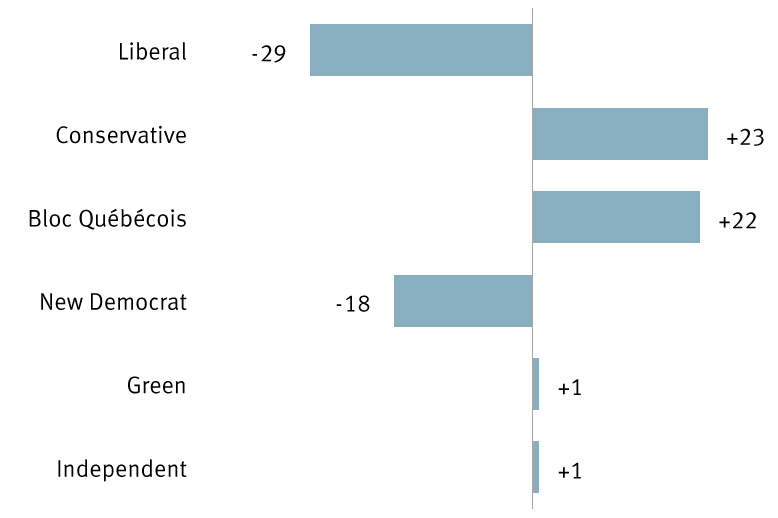 Source - CBC
If cooperation involves the pursuit of new spending initiatives from both parties, it could conceivably result in wider deficits than either had projected. Such an outcome would be supportive for the economy and bond yields, all else equal.
Reiterate Market Weight on Canadian equities
Domestic-specific challenges including stretched household finances and a lack of crude oil pipeline capacity will remain in place for the foreseeable future, in our view. We continue to see these issues reflected in discounted valuations and, as such, maintain a Market Weight stance on Canadian equities. Our outlook does not materially change in the wake of the election as we continue to monitor recession risks for their potential impact on household finances and a resource-heavy Canadian equity market.