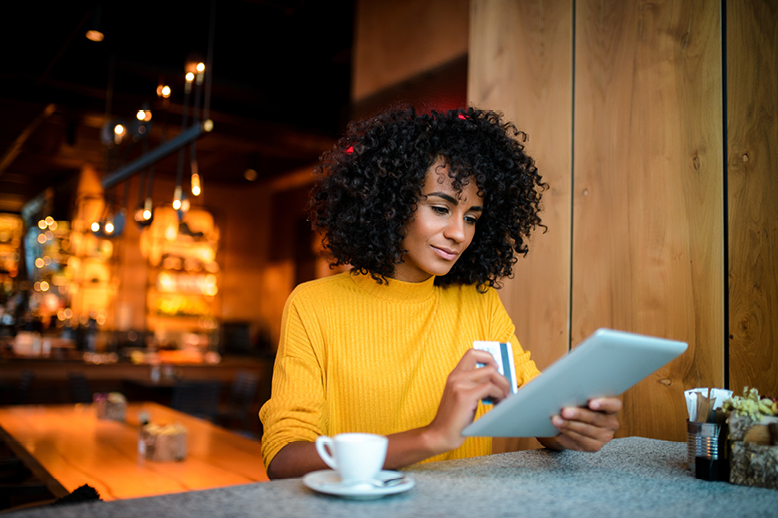 The consumer is the main engine of the U.S. economy, and with rising wages and a strong employment picture, the consumer appears to be in great shape as the new year begins. Jim Allworth discusses the importance of consumer spending with RBC Capital Markets' Chief U.S. Economist Tom Porcelli.
Tom, you've been adamant for a long time that the pulse of the U.S. consumer is strong and, as long as it remains so, a recession is unlikely to arrive. One would never come to that conclusion reading the daily headlines.
That's for sure. If I was to make a blanket statement it seemed, at least for a time there, no matter how good (or even OK) a data point was, it was interpreted as negative. It was rarely "This is the sign of a strong economy that has staying power."
I travelled a lot more than usual in 2019, visiting clients here at home and abroad. Almost every meeting was an uphill struggle when it came to persuading our clients the expansion had further to run because the consumer—the dominant engine of the U.S. economy—was in great shape and showing no signs of running out of steam.
What is the basis for your conviction about the staying power of the U.S. consumer?
Well, the employment picture is definitely the biggest brick in the wall. Tight labor markets suggest wage pressures will continue. The unemployment rate sits near a 50-year low and is below most estimates of "full employment." Unemployment claims near all-time lows suggest not a whiff of stress in the labor backdrop. And just to drive the point home, at present there are 7.3 million jobs available versus 5.8 million unemployed. Think about that. There are significantly more job openings than the number of unemployed. This is something that has never happened in the history of the data. Furthermore, the National Federation of Independent Business, which surveys its more than 300,000 small and medium sized business members monthly, reports that 26 percent (one percent below the record high) cite the inability to hire qualified workers as their single biggest problem; in the most recent survey (Nov. 2019), 61 percent of firms reported attempting to hire someone, and 88 percent of them were unable to find a qualified applicant. In other words, it is not at all heroic to say wage pressures will continue, and thus spending should continue to chug along.
It's been a long time since unemployment was this low
U.S. unemployment rate (U-3 rate %)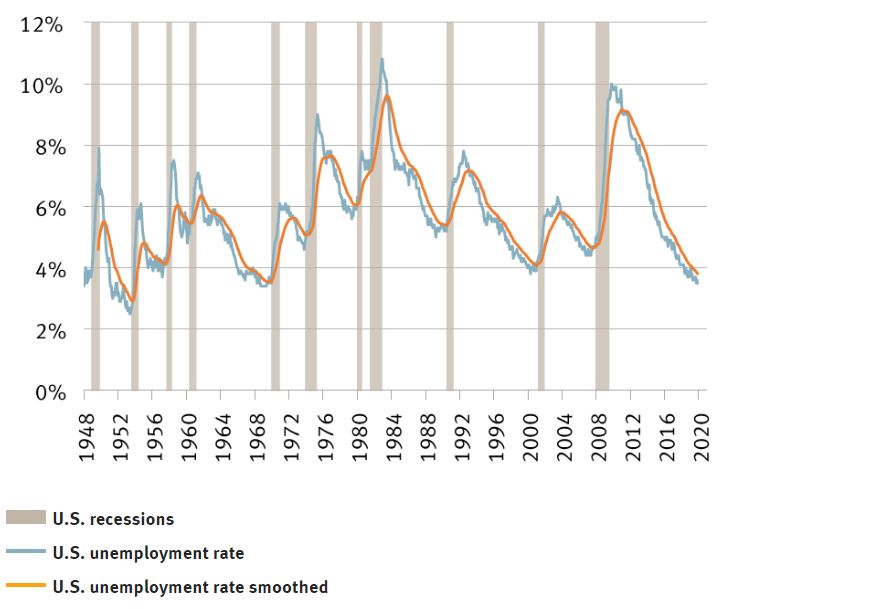 The U.S. labor market is at its tightest in 50 years …
A high percentage of firms surveyed are raising wages or are planning to. One of our highest-conviction calls for 2020 is for a further acceleration in wage growth. Average hourly earnings growth moved convincingly above the three percent mark (y/y) for the first time in a decade a little more than a year ago. We think that pace will be maintained or surpassed in 2020.
Wages are on the rise
Real median weekly wages (1982-84 CPI adjusted dollars)
… and the tight labor market is pushing wages higher …
Source - U.S. Bureau of Labor Statistics; quarterly data through Sept. 2019
Can the employment picture improve further from this point on?
Yes it can. The average monthly employment gain was 186,000 positions over the past year, but we think that will slow down this year, to something closer to 125,000 per month. Meanwhile, the number of people entering the labor force each month also looks set to slow from about 140,000 down to 100,000. As long as the number of new jobs exceeds the number of new entrants to the labor force (the "break-even" level) then the unemployment rate will continue to decline. On balance, that's what we think will happen over the course of the coming year.
But job creation and the unemployment rate only tell part of the story. The best way to gauge the consumer's ability to drive spending is through wages. Production (non-supervisory) workers comprise more than 80 percent of the U.S. workforce, and their real aggregate wages—that is, wages after taking out the effect of inflation—are growing at close to a three percent y/y pace, well above the long-term average. Given the tightness of the labor market, there is almost no reasonable argument to be made that casts doubt on the consumer's ability to drive spending in the coming year at a better than two percent pace.
The U.S. consumer is smiling
Bloomberg US Weekly Buying Climate Positive Net Index
Bloomberg US Weekly Consumer Comfort Index for full-time employed
… boosting the confidence of the U.S. consumer.
Source - Bloomberg, RBC Capital Markets U.S. Economics; data through 12/15/19
It's no wonder consumer confidence readings are elevated.
Are there any signs that buoyant consumer confidence is inducing reckless spending?
Far from it. In the eleventh year of this longest-ever economic expansion, the consumer's reaction to extreme labor market tightness and the job security it implies, as well as to rising wages, has been to save more. Needless to say, this is an atypical reaction. In fact, our saving model suggests that given this feel-good backdrop the consumer should be drawing down savings. Instead, the saving rate remains elevated in the U.S. at about eight percent. And households continue to de-lever despite extraordinarily low interest rates. Credit card delinquencies are running at a rate only slightly above the all-time low reading posted back in 2015.
As we think about 2020, there is almost no getting around the fact that the consumer will again be the engine. On the face of it, calmer waters on the trade front would suggest businesses' capital expenditures (capex) could show some lift in the coming year, but we would caution against placing too much optimism here. Even if trade worries completely vanish, we still have the coming presidential elections that could add a dose of uncertainty to the backdrop. Thus we do not see capex helping propel growth in any material way. Rather, the consumer will again shoulder the burden. Luckily, they can.