With the S&P 500 reaching a new high and the search for bargains becoming more challenging, attention is turning toward sectors that have lagged. After outperforming for months, Health Care has trailed recently. The sector has dropped 4.0 percent so far in April compared to a 3.2 percent gain for the S&P 500.
There's a good reason for the rough patch. Health care reform proposals are back on the table as the 2020 presidential race begins to swing into gear. Some Democratic candidates are placing "Medicare for All" atop their agendas. This proposal would extend the taxpayer-funded health care insurance program for retirees, Medicare, to the entire population.
While there are factors that could cause Health Care to bounce near term—sound fundamentals, greater-than-normal valuation discount to the S&P 500, and attractive defensive characteristics—we think "Medicare for All" and potentially other reform proposals will continue to generate headline risk and volatility as the campaign season marches on. The sector's valuations are above where they were during the previous periods when reform scares occurred, and are not yet cheap enough to fully discount the risks, in our view.
Health Care was ahead until political headwinds resumed
U.S. index performances since April 2018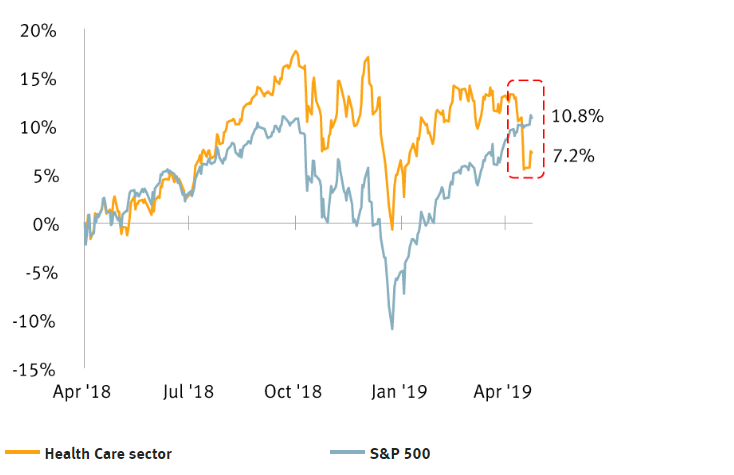 Political punching bag
We believe health care reform proposals will remain a headline risk not solely because some candidates are focusing on "Medicare for All," but also because credible polls indicate voters of all stripes are dissatisfied with the health care system.
For example, 90 percent of Democratic voters, 87 percent of Independents, and 80 percent of Republicans support having the government negotiate bulk prescription drug prices for Medicare, according to a Kaiser Family Foundation study. Allowing Americans to buy drugs imported from Canada is supported by 76–78 percent of the same groups. The pharmaceutical industry opposes these proposals.
Merely trimming around the edges of what is (rightly or wrongly) perceived as a broken health care system by many doesn't fully answer voters' complaints in a host of polls that we've reviewed. We think every viable 2020 presidential candidate, regardless of party, will have to address health care dissatisfaction, at least rhetorically.
The headline risks don't come from just the Democratic side of the aisle. President Trump has put pharmaceutical prices in his crosshairs in the past. He could raise some health care reform ideas that Wall Street might not like, just like he did in 2016.
Fear of the unknown
Regardless of who wins the presidency and how congressional control shakes out, we think Washington is unlikely to embrace wholesale changes to the health care system in one fell swoop—the government is indeed a slow-moving and often inefficient supertanker, even when one party/ideology controls the major power levers.
Furthermore, dissatisfaction of the health care system does not guarantee public support for a new insurance structure. When a "Medicare for All" bill was introduced in the House in late February, RBC Capital Markets, LLC's health care services analyst Frank Morgan wrote, "It is worth noting recent polls indicate that while the public views the single-payer system concept favorably, that support declines significantly when voters learn that it would eliminate most private health insurance and could raise taxes. In addition, it could cut reimbursement for many hospitals and doctors."
Since then, it seems institutional investors are still spooked about headline risks and some are concerned the 2020 election results could tilt reforms against the industry, even if "Medicare for All" does not come to fruition. Morgan characterizes the recent concerns as "fear of the unknown."
In a survey of institutional clients, RBC Capital Markets asked which areas of the stock market would be most at risk if the Democrats sweep the White House, House, and Senate. Health Care was the top selection.
Current valuation is above prior health care reform scares
S&P 500 Health Care sector trailing 12-month price-to-earnings ratio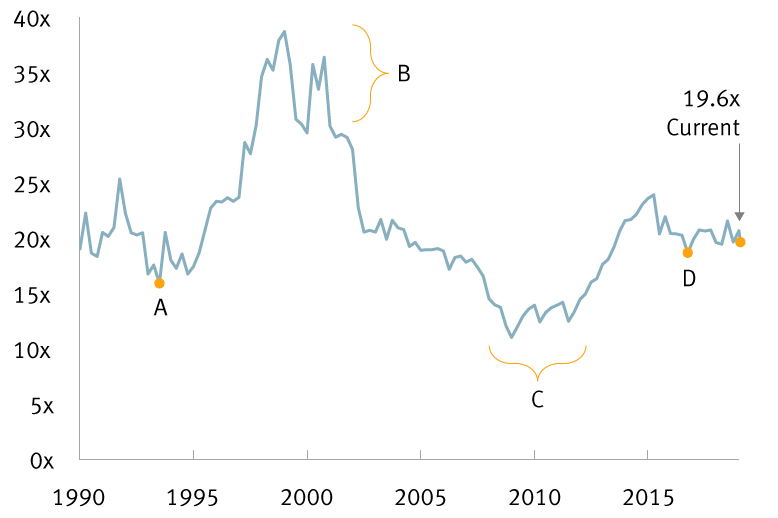 A - 15.9x: The low during the Clinton health care reform plan debate
B - Lofty valuations an anomaly due to distortions from the Tech Bubble
C - Low valuations during the Obamacare debate averaged 13.1x; however, the pressure was also caused by the financial crisis
D - 18.7x: The low of the 2016 election cycle when both candidates' proposals caused jitters
Source - RBC Wealth Management, Bloomberg; quarterly data through 4/24/19
Valuations not ripe for plucking
We acknowledge that the Health Care sector's fundamentals are good, on balance. Earnings growth is expected to exceed the S&P 500 and that of other defensive sectors in 2019, and segments within the sector continue to innovate. Health Care also tends to outperform the broader market late in economic expansion cycles.
But are these positives enough to offset the political headline risks and vulnerabilities? Not just yet.
Valuations are still above where they were when reform scares occurred previously. The sector's price-to-earnings (P/E) ratio is 19.6x trailing earnings versus the most relevant previous two periods of 15.9x and 18.7x, as the chart illustrates. The valuation was even cheaper when the Affordable Care Act, aka Obamacare, was proposed and debated, but that period was heavily influenced by the financial crisis, so it's not a good direct comparison.
At 19.6x trailing earnings, the sector P/E is above the 10-year average of 18.1x. On a 12-month forward earnings basis, it's right at the 14.6x average.
Health Care has one valuation metric in its favor. It's cheaper compared to the S&P 500 than usual. It currently trades at a 14 percent discount to the broader market versus a 4 percent average discount for the past 10 years.
We think political headwinds will likely cause more valuation compression, at least on an absolute P/E basis. Institutional investors may be hard-pressed to wade back into the sector in a big way until it becomes cheaper by enough to factor in the political risks.