With the coronavirus spreading further and more deaths being recorded outside of China, equity market volatility has persisted and sovereign yields, including Treasury yields, have continued to cascade lower. The 10-year Treasury yield dropped to 0.898 percent intraday on Mar. 5, a new all-time low. The S&P 500 has moved up or down by more than three percent in six of the past nine trading sessions.
A sign of stress and a flight to safety
U.S. Treasury yields move even lower (%)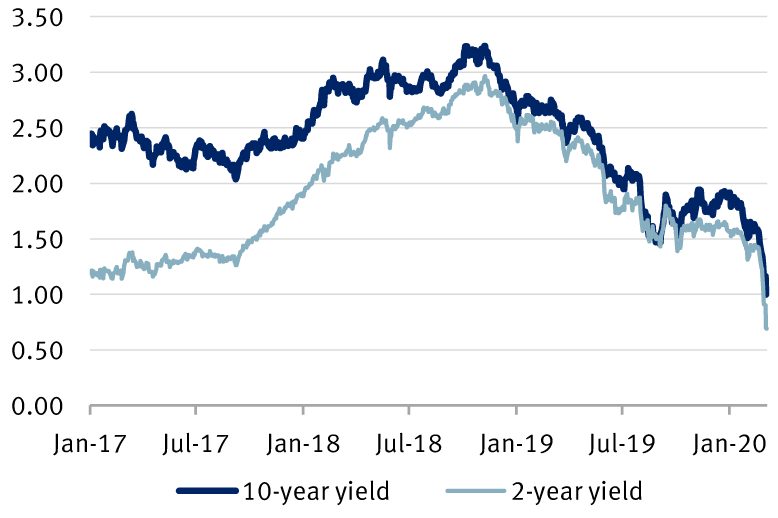 Markets are having a difficult time gauging the potential knock-on effects for economic growth as well as corporate sales and profits given the uncertainty about when the transmission of the disease will peak and the degree to which it will disrupt day-to-day life.
The Federal Reserve's surprise, emergency rate cut of 50 basis points and a follow-on move by the Bank of Canada were met warily by markets.
While we think they were reasonable moves to make, especially since yields had fallen below central bank target rates even before the cuts were announced, we recognize this is primarily a public health crisis, not a financial crisis. No amount of central bank liquidity will end the coronavirus. The solutions will ultimately come from the medical community. Governments' ability (or inability) to contain the spread of the virus, and the implementation of targeted fiscal spending, will also play important roles.
Coronavirus chills
Concerns about economic growth are nothing new for this expansion cycle that began in 2009. They occurred in 2010, 2011, 2015–16, and the second half of 2018.
It's not yet clear if this will be just a garden variety "growth scare" for the U.S. economy—where the markets fear recession risks, but a recession ultimately is avoided. Or, whether the coronavirus will actually tip the U.S. economy into an outright recession, mild or otherwise.
We think there are more uncertainties and unknowns associated with the coronavirus risks than were posed by the risks associated with the U.S.-China trade disputes in 2018–19 and this cycle's previous growth scares.
The risk of a U.S. recession has risen to 31 percent from 24 percent at the beginning of the year, according to the Federal Reserve Bank of New York's probability model, which is based off of the Treasury market.
But a contraction in the economy is by no means a fait accompli. This gauge is still below the 38 percent peak reached in the summer of 2019 when trade tensions heated up between the U.S. and China.
How markets get over growth scares
Most equity markets tend to struggle with U.S. economic "growth scares" but then shake them off when they dissipate.
The peak-to-trough declines for the S&P 500 during the four prior growth scares of this expansion cycle ranged from 14.2 percent to 19.8 percent. (By comparison, so far at its worst point, the S&P has fallen 12.8 percent due to coronavirus headwinds.)
S&P 500 "growth scare" pullbacks post 2010
Peak-to-trough declines and performance after the troughs
Peak date
Trough date
Duration (cal. days)
Decline (%)
Peak current year P/E level
Trough current year P/E level
Performance after the trough
1-mo. return
3-mo. return
6-mo. return
12-mo. return
4/23/10
7/2/10
70
-16.0%
14.2
12.0
10.1%
12.1%
23.0%
31.0%
4/29/11
10/3/11
157
-19.4%
13.9
11.2
14.7%
16.2%
28.6%
28.7%
5/21/15
2/11/16
266
-14.2%
18.0
15.4
10.6%
12.9%
19.5%
26.6%
9/20/18
12/24/18
95
-19.8%
18.0
14.4
12.4%
19.0%
25.3%
37.4%
Median
126
17.7%
11.5%
14.5%
24.1%
29.8%
Average
147
-17.3%
11.9%
15.0%
24.1%
30.9%
Source - RBC Capital Markets U.S. Equity Strategy, RBC Wealth Management, Bloomberg, FactSet, Thomson
The prior peak-to-trough declines took an average of 147 calendar days to play out, although their length varied greatly by episode, with the shortest occurring for 70 days and the longest lasting 266 days.
Following those growth scares, because a recession did not materialize and the economic expansion persisted, the S&P 500 more than recouped the losses in six or 12 months after reaching its trough levels, as the table shows.
If the U.S. economy avoids a recession in 2020, by year end, we expect most stock markets will have advanced from today's levels, similar to what occurred in the prior growth scare episodes.
Revealing clues
To gauge U.S. recession risks during this coronavirus outbreak, we are monitoring consumer confidence along with our six favorite recession indicators, with a particular emphasis on unemployment claims and leading indicators of manufacturing (new orders minus inventories). Thus far, only one of our six favorite indicators is flashing red—the Treasury yield curve—and it has been for many months. But in fairness, the brunt of the coronavirus' impact on the domestic economy has probably not hit yet.
Additionally, we are monitoring corporate gauges such as global supply chain developments, and guidance from multinational companies about sales, earnings, and operations disruptions.
We haven't seen the last of volatility
Concerns around the coronavirus outbreak will probably go on suppressing investor attitudes for some months to come. Even assuming the outbreak peaks and begins receding by early summer, clarity around the sales and earnings costs of this health emergency will be a long time coming. We think there is more equity market volatility in store—in both directions.
If a recession doesn't materialize in the U.S. this year, most stock markets should be able to meaningfully climb from the current correction levels by the end of 2020, in our view. However, the probabilities of a more adverse economic outcome are higher than when the year began.