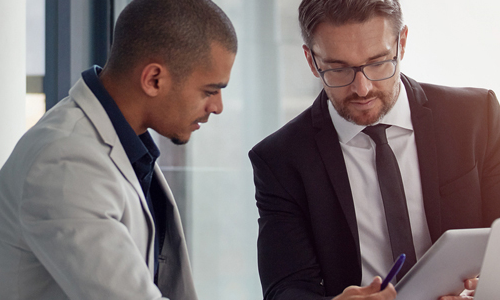 Could the worst be over?
The mood of global equity markets took a turn for the better, as central banks' many recent dovish policy moves should help underpin the business cycle, while positive economic surprises provided a lift. We've seen a bump in positive surprises recently, not only for the G10 as a whole, but also in particular for the U.S., Canada, the UK, and Japan. This does not mean necessarily that these economies are humming along, though the U.S. is faring well, just that they're doing better than widely expected.
G10 and U.S., in particular, surprise on the upside
Global economic surprises rebound
But it has proven more difficult for other countries and regions to beat consensus expectations. In China, exports and imports for August fell by one percent and six percent year over year, respectively, while industrial production growth slowed to a meager 4.4 percent. Yet after months of declines, recent developments in the Middle Kingdom point to a possible stabilization, though at a low level. The August Caixin manufacturing and non-manufacturing Purchasing Managers' Indexes (PMIs) have both recently ticked up and hover above the key expansion threshold of 50.
In the eurozone, economic data also surprised, but on the downside. Eurozone activity indicators disappointed across the board in September, falling sharply from the month prior. The manufacturing sector's decline since December 2017 continued, and the non-manufacturing sector weakened—though it remains in expansion territory. This suggests the slowdown in manufacturing might be starting to bleed into the domestic service sectors. That Europe should be hit by the trade war should not come as a shock to anyone—it is not only a very open economy with exports as a percentage of GDP at 43 percent (close to 50 percent for Germany), but it is also very exposed to manufacturing at a high 17 percent of GDP (over 20 percent in Germany).
Weakness in the manufacturing sector is spilling over to the service sector
Euro area Purchasing Managers' Indexes
Source - RBC Wealth Management, Bloomberg
Much will hinge on …
The main risks to the struggling economies—an escalation of the U.S.-China trade war, a Saudi-Iran confrontation triggering an oil price surge, and the prospect of an imminent no-deal Brexit—seem to have receded somewhat of late, though they have not vanished altogether.
The narrative of the U.S. trade dispute has improved with both China and the U.S. offering olive branches ahead of the upcoming negotiations in October. China has exempted large importers from tariffs on U.S. pork and soy products, while the U.S. has mentioned rolling back its most recent round of tariffs.
This improved backdrop puts the upcoming talks on a firmer footing, though a breakthrough is far from assured. After all, it would be more advantageous for President Donald Trump to strike a deal closer to the election in November 2020. Meanwhile, the Chinese may not necessarily want to aid in his re-election.
And should some deal be eventually consummated, the next question would be whether it would hold. Moreover, an agreement on this front may also free up the Trump administration to focus on the next big issue—the EU-U.S. trade negotiations. Trump has already voiced his displeasure at the weakness of the euro.
As for the Saudi-Iran confrontation, the oil price is close to its pre-attack level. But RBC Capital Markets suggests the crisis is far from over. Sustainably higher oil prices would hurt countries that are net importers of oil, and growth in Japan and the eurozone in particular would likely moderate should prices spike again.
Finally, the risk of an imminent no-deal Brexit, which would have wounded the UK and European economies, has retreated somewhat after recent events (see page 4) but may not be entirely off the table.
Mood music
If the mood music is better now, markets remain vulnerable to a change in tune. The risks described above can easily take a turn for the worse. Moreover, the recent announcement by House Speaker Nancy Pelosi that the U.S. House of Representatives will move forward with a formal impeachment inquiry into Trump adds to the already long laundry list of potential worries.
At this point, it seems very unlikely that Trump will be removed from office, given that removal requires a two-thirds majority in the Republican-controlled Senate. However, the impeachment investigation is another distraction for the market. It could create periodic volatility, but it is too soon to tell if it will morph into something more.
Whether the impeachment procedures increase the probability of a Democratic Party victory in the 2020 presidential and congressional elections is likely to be more important to markets going forward, given some sectors could face challenges in the event of a Democratic sweep. According to RBC Capital Markets' industry analysts, Health Care, Energy, Materials, Financials, Communication Services, and large internet firms would be at greatest risk of regulatory pressures if the Democratic Party wins the White House, House of Representatives, and Senate.
Keep your eye on the ball
We would suggest investors take the volatility in stride and focus on what really matters: economic trends and corporate earnings, with the U.S. results season, in particular, starting in mid-October. The consensus continues to expect modest earnings growth, which seems achievable to us in most regions given the decent economic backdrop. We maintain a Market Weight position in global equities. We are more cautious on Europe, where we are Underweight, given economic challenges and relatively ambitious consensus earnings forecasts which have yet to reflect the difficulties in the region.