A sudden escalation in the U.S.-China trade saga sent equity markets sharply lower, with major indexes awash in a sea of red. News that the Trump administration intends to follow through on earlier threats to raise tariffs on Chinese goods entering the U.S. caught investors off guard, disrupting a period of calm in financial markets and jolting volatility from its recent slumber.
This abrupt U-turn in the trade negotiations, with China vowing to retaliate in response, had investors scrambling for clarity on the implications of the renewed trade tensions. Financial markets appeared to have largely anticipated an imminent trade deal between the two countries, and while an eventual deal has likely not been derailed, the return of trade fears ostensibly took the market spotlight off the Fed and the recent slowdown in U.S. inflation, for now.
Trade threats awaken volatility after a sleepy start to 2019
CBOE Volatility Index (VIX)
Easing price pressures in the U.S. have steadily captured market attention, culminating in the Fed addressing the situation in its May 1 policy announcement. Renewed growth fears emanating from the trade spat could inflame the downtrend in inflation, notably should a nascent decline in crude oil prices be sustained. But revived tariff hikes, either imminently or in the near future, could instead shift inflation risks to the upside. Even so, we believe the Fed is likely to view the developments as temporary, with the U.S. expansion expected to remain largely intact.
Transitory trends
The Fed cited weak energy prices as the culprit for low inflation in March, and while this attribution was absent in its April assessment, the Fed's preferred inflationary gauge—the Core Personal Consumption Expenditures Price Index, which excludes volatile food and energy prices—slipped further from its 2% target. At the May confab, Fed Chair Jerome Powell dismissed the recent price weakness as "transitory" and assessed that "many little things" were weighing on price growth, ranging from cheaper clothing and footwear to investment advice services.
Powell's comfort with inflation drifting either below or above the Fed's 2% target sent a signal to markets that current price dynamics did not warrant an easing in policy. But despite the message, markets still appear to be unconvinced, with inflation expectations drifting lower and rate cuts remaining priced in.
Throwing a (trade) wrench into the mix
The latest bout of threats could curb these recent deflationary concerns should the higher cost of imported goods, on account of the tariffs, be passed through to consumer prices. Tariffs are set to rise from 10% to 25% on $200B of Chinese imports, a move already deferred twice so far this year. But the new threat is a 25% tariff on an additional $325B in Chinese goods, targeting an array of items from clothing to toys and electronics.
To date, 40% of U.S. consumer goods sourced from China have been sheltered from duties imposed at the U.S. border; in effect, the tariffs have largely focused on capital goods. But instead of foreign firms lowering prices to offset the tariffs, domestic firms in the U.S. have largely absorbed the additional costs; for example, firms that source intermediate inputs from abroad, or purchase investment goods overseas, have absorbed the higher cost. Going forward, higher consumer prices could materialize for imported goods that have been immune thus far from the tariffs (see chart).
U.S. consumer goods now in the crosshairs of tariff threats
Top U.S. imports from China that have yet to be slapped with tariffs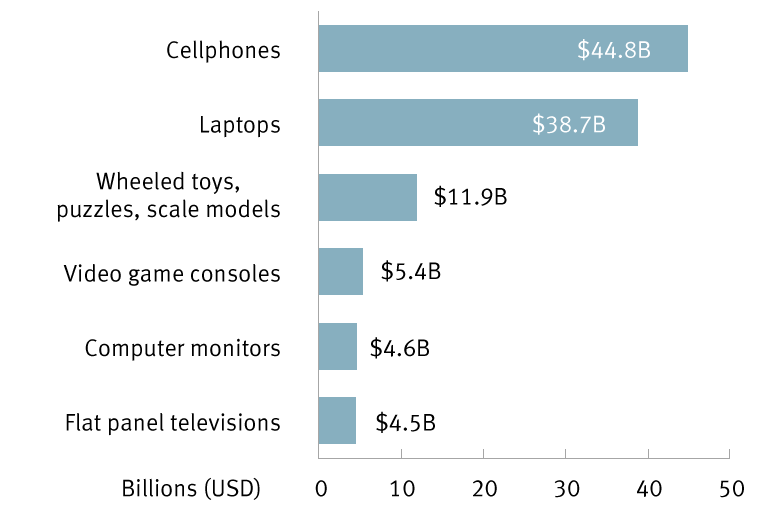 Source - U.S. International Trade Commission 2017, Bloomberg, RBC Wealth Management
Fully passing through across-the-board 25% tariffs to consumer prices and to business margins would prompt a shift upwards in the overall level of prices, in our view. In effect, higher tariffs would spur price growth in the short term. But over time, we believe this one-time boost would likely fade from the accounting, limiting a sustained impact on the overall inflation outlook.
In addition to the price channel effect, the economic impact would likely not be severe or long-lasting. RBC Capital Markets estimates that a full slate of tariffs would shave about 0.5% off of U.S. real GDP growth—a bump in the road but most likely insufficient to derail the economic expansion.
Market jitters or full-blown fears on fundamentals?
For equity markets, the latest trade bout sparked a swift reaction likely on account of markets anticipating a trade deal with China. A review of earnings for S&P 500 companies by RBC Capital Markets, LLC Chief U.S. Equity Strategist Lori Calvasina pointed to tariffs and trade tensions falling off the radar of companies relative to the past few quarters. But an escalation of tariffs and the resulting higher input and raw material costs for U.S. firms could prompt downward revisions to earnings expectations. As a result, a short-term peak in the S&P 500 could come "a little bit sooner" than she had anticipated if the tariff threats are not rolled back.
The long and winding road to a U.S.-China trade deal has been extended in light of the recent developments, but a final compromise is not completely out of sight, in our view. Emerging cracks in the U.S. growth foundation have yet to dampen economic fundamentals, and while risks to the near-term inflation outlook could tilt to the upside in a higher tariff environment, the Fed has asserted its intention to support the ongoing expansion despite inflation fluctuating around its 2% target.
Against this backdrop, we see scope for the U.S. equity market to reach new highs over the coming 12 months. The latest ripples have not dissuaded us from our Market Weight position, but instead, the latest selloff adds credence to our view that defensive portfolio positioning is increasingly warranted.