The new leadership team is viewed as more ideologically and politically oriented, while those retiring are perceived as more pro-growth and market-oriented. We think it's too early to draw such conclusions.
Western media highlighted that China could be moving away from its decades-long trend of opening up its economy. We don't think this is the case. To achieve its development goals, China will likely need to attract more outside investors while expanding trade ties.
National security and social stability became more important in President Xi's speech this time. To us, this makes sense. But there is much more to "security" than meets the eye.
In China's quest for "Common Prosperity," we expect more tax policies to regulate the rich and to support the poor, and to bolster the social welfare safety net.
Lifting the zero-COVID policy would likely be a key catalyst for China's near-term stock market performance. While we don't think this is imminent, we anticipate a gradual reopening will occur.
We think market volatility could persist in the short term as investors debate the focus of future policy and look for signs to justify their own interpretation of the Party Congress messages.
The recent conclusion of the 20th National Congress of the Communist Party of China (CPC), known as the Party Congress, and the subsequent unveiling of the 20th Politburo Standing Committee took place at a time when the world is experiencing profound changes. China itself is facing a number of challenges to its economic outlook due to the zero-COVID policy, property market turmoil, as well as trade and technology decoupling with the U.S., its largest trading partner. For investors, how China sets its policy agenda to address these challenges, and the degree to which it can contribute economic growth and mitigate uncertainty have become key points of focus.
Why is the 20th Party Congress important?
The Party Congress is held every five years and is one of the most important political events in China. This year, close to 2,300 delegates were elected to attend the meeting, representing more than 96 million Party members. During the meeting, the work of the Party over the past five years was reviewed, and the new Central Committee was elected, followed by the election of the political bureau (Politburo) and its Standing Committee, the latter of which represents the most senior Party leaders in China.
The election process of the 20th Party Congress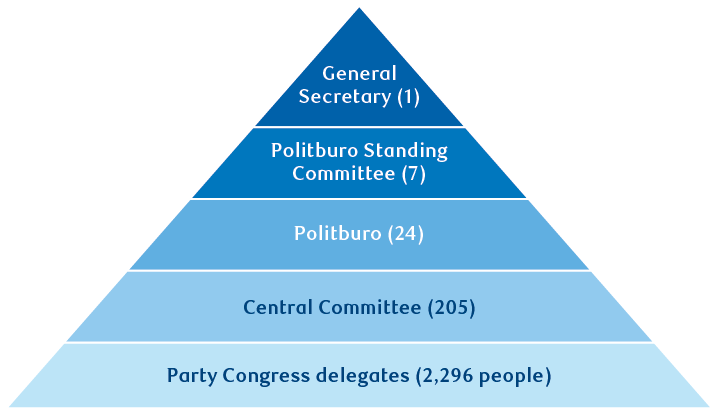 The graphic illustrates the process by which the leadership team of the Chinese Communist Party is elected. The graphic consists of a triangle pointing upwards, made up of five levels representing steps in a hierarchical voting system, wherein each level elects the level above it. At the base of the triangle, approximately 2,300 delegates were elected to attend the Party Congress. These delegates elect the Central Committee (205 people), which elects the Politburo (24 people), which elects its Standing Committee of seven people, and they elect one person to be the General Secretary.
The most significant aspect of the 20th Party Congress, according to the CPC, is the fact that it falls during an important time in China's progress to achieving what are called the Two Centennial Goals:
The first Centennial Goal was to "build a moderately prosperous society in all aspects" by 2021, which China has stated has already been achieved. This had a lot to do with the alleviation of absolute poverty, the increase in people's quality of life, and a significant rise in GDP.
The focus is now on achieving the second goal, which is to "build a modern socialist country that is prosperous, strong, democratic, culturally advanced, harmonious and beautiful." How the country moves forward to achieve this goal will largely depend on forthcoming decisions made by the new Party leadership. This includes preventing and controlling major risks and deepening reforms to ensure that China moves ahead with healthy economic and social development.
This is a pivotal time as China switches gears from achieving the First Centennial Goal to preparing to make the Second Centennial Goal a reality by 2049, which is a symbolic date—the 100th anniversary of the founding of the People's Republic of China.
New leadership team
President Xi Jinping was reelected as the Party's general secretary and chairman of the Central Military Commission. He should also keep his government position as the president of the country, which will be confirmed at the National People's Congress in March 2023.
The total number of Politburo Standing Committee members remains unchanged at seven. Four of these are newly appointed members (Li Qiang, Cai Qi, Ding Xuexiang, and Li Xi), among which the first three had worked closely with Xi in the early stages of their careers.
Notable retirees include current Premier Li Keqiang and senior official Wang Yang, both at age 67. Xi broke with the previous personnel appointment rule of "seven up, eight down," which refers to an implicit convention since the 1990s that officials can remain on or join the Standing Committee if they are 67 years old or younger, but need to retire if they are 68 or older.
We think newly appointed leaders are generally viewed by market participants as more ideologically and politically oriented, while those retiring are perceived as more pro-growth and market-oriented. However, it may be too early to draw such conclusions. Policy directions and the management style of the new leadership team will be closely watched.
"High-quality development" still the top priority
President Xi's speech at the opening ceremony of the Party Congress reviewed the Party's work in the last five years and set a long-term blueprint for the economy.
Xi reiterated that the overall development objectives for 2035 are to substantially grow per capita GDP to be on par with that of a mid-level developed country. Previously, a Ministry of Finance official had defined "mid-level developed country" as meaning that per capita GDP would reach $20,000 in 2035. China's per capita GDP in 2021 was around $12,500, as the chart below shows. To achieve this goal China's economy will need to grow by four percent to five percent per annum from now until 2035.
China has made great economic progress over the past four decades
China's GDP per capita vs. the world average (current U.S. dollars)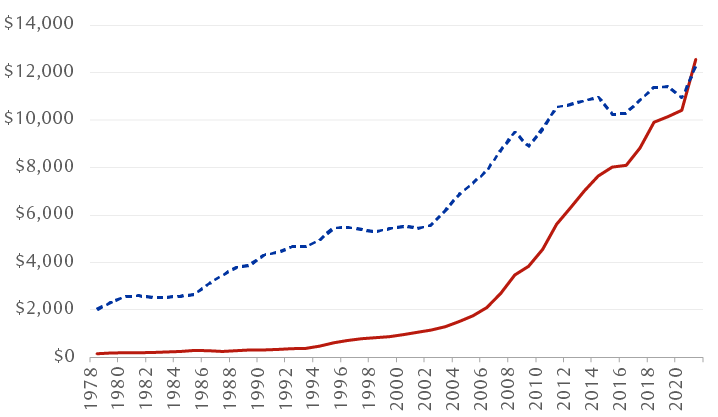 The line chart shows China's gross domestic product (GDP) per capita from 1978 through 2021 compared to the world average. China surpassed the world average for the first time in 2021.
Source - RBC Wealth Management, Bloomberg; annual data through 2021
To achieve such a target, we believe China will need to reopen its economy and lift the zero-COVID restrictions, as well as reengage with the world. The longer this process is delayed, the more stimulus measures may be required; these may not be as effective as in the past several decades due to the lack of credit and consumer demand and diminished confidence of businesses and consumers.
The concept of "opening up" doesn't just apply to lifting COVID restrictions over the near term. In order for China to achieve four percent to five percent growth over the medium and long term—which a number of Wall Street economists are skeptical about—we believe China will need to further open up its economy to outside investors while developing and deepening trade ties with other nations. "Opening up" will be critical for China's future growth, in our opinion.
Self-sufficiency doesn't mean development behind closed doors
In his speech, Xi also said China will promote "high-standard opening up" and "accelerate efforts to foster a new pattern of development with domestic circulation as the mainstay and domestic and international circulations reinforcing each other." (The term "circulation" loosely refers to economic activity.)
While some of the press coverage of Xi's speech and the Party Congress in Western news outlets highlighted that China could be moving away from its decades-long trend of opening up its economy, we don't think this is the case. Zhao Chenxin, a deputy director of the National Development and Reform Commission (NDRC), pointed out that it is wrong to think that China will scale back its efforts to open up its economy to the rest of the world. He said President Xi has stressed repeatedly that the globalization trend is irreversible and that no country can engage in economic development behind closed doors.
Zhao revealed that China utilized 893 billion yuan (around $124 billion) of foreign capital in the first eight months of 2022, an increase of 16.4 percent year over year in comparable terms. Foreign capital heading into high-tech industries increased by 33.6 percent year over year.
We think China seeks to maintain its ability to engage globally in trade, finance, and technology, while strengthening domestic demand, and boosting production and technological capabilities to prevent disruptions in the global marketplace. Its leadership in the Shanghai Cooperation Organization and the BRICS association (Brazil, Russia, India, China, and South Africa), both of which are growing in membership or considering expansion, are cited as two examples of this.
China's economy is a major contributor to global growth
Contributions to world economic growth (2013–2021)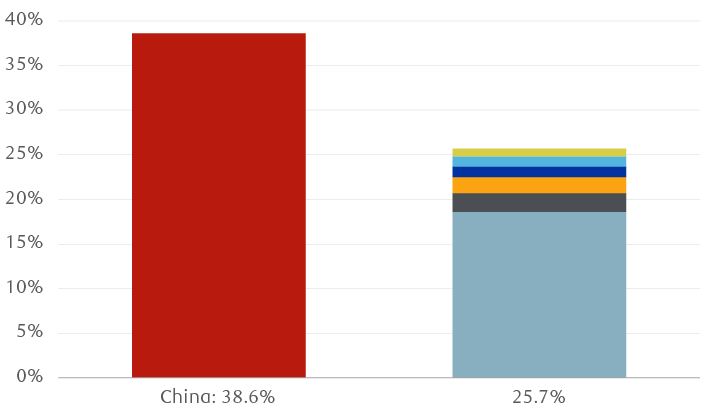 The column chart compares China's contribution to world economic growth from 2013 to 2021 (38.6% of growth) to the contributions of six other countries (combined total, 25.7%): U.S., 18.6%; UK, 2.1%; Germany, 1.8%; Canada, 1.2%; France, 1.1%; Japan, 0.9%.
Source - RBC Wealth Management, World Bank WDI database, China Ministry of Foreign Affairs
National security has become more important
National security and social stability appear to have become more important in Xi's speech this time. Some textual analysis suggests the frequency of the use of the word "security" increased notably versus five years ago.
There is concern the focus on security will replace economic development as the top priority of the country. However, compared with the last Party Congress in 2017, the macro environment and geopolitical situation have changed significantly. We think it is reasonable to address "security" a bit more to respond to the challenges that China is facing domestically and internationally.
Looking closer at Xi's speech, the use of the term "security" was very broad. It included "people's security as our ultimate goal, political security as our fundamental task, economic security as our foundation, military, technological, cultural, and social security as important pillars, and international security as a support." There was also emphasis on ensuring and safeguarding food security, energy security, and supply chain security. These concepts are nothing new and have been frequently mentioned by government officials in the past few years.
For example, food security now has an important place in policy decisions as China is concerned that it is very vulnerable because of its reliance on food imports from the U.S. China imported more than 96 million tonnes of soybeans in 2021, accounting for about 83 percent of its domestic consumption that year and about 60 percent of global soybean trade volume. Most of the imports came from Brazil (60 percent) and the U.S. (33 percent). Soybeans has been one of the key items in the U.S.-China trade negotiations in recent years. China believes that reducing food reliance on the U.S. will allow it to take a proactive position when dealing with decoupling—the process by which linkages between the two countries could diminish, resulting in greater independence.
China has an appetite for imported foods
China's food imports by country of origin (2020)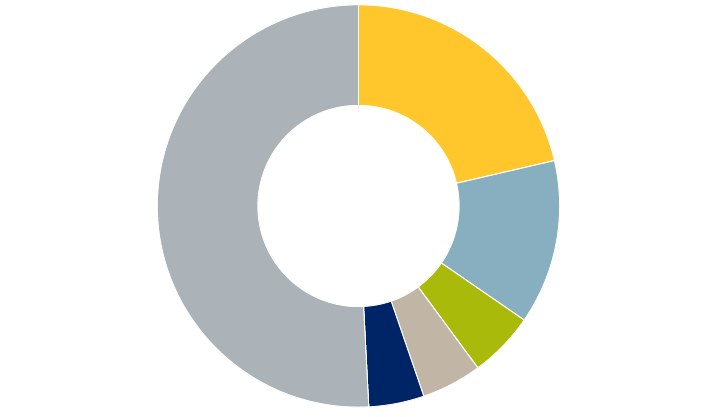 The pie chart shows the proportion of China's food imports originating from top partner countries in 2020: Brazil, 21.4%; United States, 13.2%; New Zealand, 5.3%; Australia, 4.8%; Canada, 4.5%; the remaining 50.8% of food imports came from more than 170 other countries.
Source - RBC Wealth Management, World Integrated Trade Solution; the "Others" category represents more than 170 countries
In his speech, Xi made it clear that China should ensure its "food supply remains firmly in its own hands." To achieve this goal, its total area of farmland should not fall below the 120 million hectare threshold. It also has plans to develop all permanent basic cropland into high-standard cropland as well as support the development of the seed industry and agricultural science, technology, and equipment. The thought is that agriculture development can also boost the incomes of rural populations and help achieve the goal of "Common Prosperity."
"Common Prosperity" likely to strengthen
The emphasis on and pursuit of "Common Prosperity" will likely strengthen under the new leadership. Xi reiterated the importance of increasing the incomes of low-income groups, promoting fairness, and better balancing development across different regions of China. Also, he pledged to reasonably regulate excessively high incomes, and to encourage high-income people and enterprises to return more to society.
Xi introduced a new concept of "regulating wealth accumulation mechanisms." Su Hainan, labor researcher from the China Association for Labour Studies, later said in an interview with The Beijing News that some people in society have been getting rich "too quickly" through income from investments, especially in the finance and internet sectors. Su also said the public expects the country to utilize taxation and regulation to deal with the situation. We believe it is likely that there will be more tax policies to regulate the rich and to support the poor, and to bolster the social welfare safety net.
Zero-COVID policy still a drag
We believe the consensus view of market participants is that lifting the zero-COVID policy will be one of the biggest near-term catalysts for the Chinese stock market. Some investment analysts in the West were disappointed this issue was not addressed at the Party Congress. However, this reflects misunderstanding of the purpose of the meeting. It is used to convey medium- and long-term goals, not to address the country's short-term challenges.
Interestingly, before the Party Congress, state media published articles for a few consecutive days to defend the government's zero-COVID approach. Despite these reports, we still expect a gradual reopening to occur. Before there is an official policy change, state media typically justifies the current policy, and from our perspective this justification does not serve as forward-looking guidance. Information about policy changes in China is typically not telegraphed ahead of time in the media. Regardless, we don't think there will be an immediate change to the zero-COVID policy after the Party Congress, as reopening preparations could take a few months to develop as China needs to come up with a clear exit roadmap to ensure that the health care system and public are ready.
Equity market implications
We think the Party Congress messages have shown policy continuity as the focus remains on development, specifically on advanced technologies, new energy, and domestic consumption, among other areas that have been emphasized in the past. We don't think the meeting represents an immediate inflection point for the equity market as the objectives of the Party Congress are typically on new leadership appointments and long-term goals—there are no major near-term policy implications, in our view.
However, the sharp and rapid negative market reaction after the Party Congress may have revealed investors' divergent views on the new leadership team and its policy agenda. Some market participants seem to be skeptical that growth will be a focus and are concerned that "Common Prosperity" could mean policy uncertainties for some sectors and companies. We think market volatility could persist in the short term as investors debate the focus of future policy and look for signs to justify their own interpretation of the Party Congress messages.
But investors' attention could soon be drawn back to corporate fundamentals as many Chinese companies will report Q3 earnings results in November. We think this earnings season could be disappointing again and profit estimates could be revised down further. In our view, the consensus estimates are still too high, with earnings growth for the MSCI China Index for 2022 and 2023 standing at nine percent and 15 percent, respectively. The index is trading at a price-to-earnings ratio of 8.4x the 12-month forward consensus estimate, almost at the historical trough level. If there are more downward earnings revisions during and after the results season, valuations could drift up slightly.
In the months ahead, we will be watching the following key events:
The U.S.-China audit dispute results: This long-standing dispute is an overhang for Chinese companies listed on U.S. stock exchanges. If regulators of the two countries reach an agreement, it could prevent around 200 Chinese firms from being delisted from American exchanges.
The Nationwide Financial Work Conference toward year end: This will address financial reforms and regulations, which are important topics for investors.
The Central Economic Work Conference (CEWC) in mid-December: The CEWC is a key meeting that outlines the country's top economic policy priorities for 2023, which should provide investors with some hints on the future policy direction.
In March 2023, there will be two important state meetings, known as the Two Sessions , which will appoint new government officials and announce the economic growth target.
Upcoming events
| Dates | Events | Agenda |
| --- | --- | --- |
| End 2022 | 6th Nationwide Financial Work Conference | Set the tone for financial reform and financial regulation for the next five years |
| Mid‑December 2022 | Central Economic Work Conference | Outline the country's economic policy agenda for next year and set (but not reveal) the 2023 growth target |
| March 2023 | Yearly plenary meetings of National People's Congress (NPC) and the National Committee of the Chinese People's Political Consultative Conference (CPPCC) | Appoint new government officials and announce economic growth target |
Source - RBC Wealth Management
In terms of investing in Chinese equities, we would continue to focus on thematic ideas such as high-end manufacturing and new energy, for example, the solar energy value chain. If China gradually lifts its strict zero-COVID policies next year, reopening plays such as airlines, travel agencies, restaurants, and some domestic consumer stocks should benefit, in our view.
Over the longer term, whether China is able to boost its economy back toward growth rates that are above developed-country economies, and if so, the process by which it achieves this goal will be the focus of investors, in our view. This will likely largely affect fund flows into the market, and the risk premiums and valuations that investors will apply to Chinese equities.