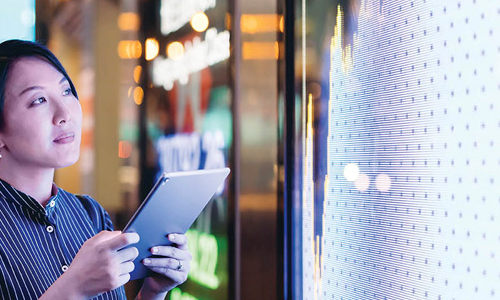 The U.S. equity market has sprinted forward since early October, with the S&P 500, Dow Jones Industrial Average, and NASDAQ Composite reaching new all-time highs. All three are now pushing up against their two-year trendlines. Many markets outside of the U.S. have come along for the ride.
Five catalysts are behind the advance:
Progress on a "phase one" U.S.-China trade deal
Better-than-feared Q3 earnings reports
The Fed's decision to cut rates and then ease off the gas at what seems to be the right time
More stable global economic data, including in China and Europe, and solid U.S. consumer and employment data
The much-diminished imminent threat of a messy no-deal Brexit
We think this lengthy bull market run, which began in 2009, has further to go over the next year but requires some patience.
S&P 500 hits a new high, bumps up against the 2-yr. trendline
Source - RBC Wealth Management, Bloomberg; data through 11/7/19
The right stuff
RBC Capital Markets, LLC Technical Strategist Bob Dickey points out that additional hefty gains may not materialize right away. The proportion of stocks participating in the rally is not yet broad enough to signal that major U.S. indexes can break above their two-year trendlines by sizeable magnitudes, in his view. The number of U.S. stocks hitting new 52-week highs has lagged previous breakout periods, and other technical indicators he monitors are less than buoyant.
Nonetheless, we are encouraged by: (1) the rally's leadership and (2) restrained investor sentiment.
From our vantage point, the "right" groups have been leading the broader U.S. market since early October: semiconductors, transports, banks, and small caps, as the top chart shows. These are cyclical, economically sensitive groups that would be hard-pressed to outperform together if the economy were on the verge of a recession. Their leadership signifies that this is a healthy advance built on a sturdy foundation.
The "right" groups are leading
Performance of select U.S. indexes during the recent rally
Source - RBC Wealth Management; data range: 10/2/19 – 11/6/19
Sentiment is restrained. Forty percent of investors consider themselves bullish about the next six months, according to the American Association of Individual Investors. This is up from just 20 percent a month ago, but is near the average level throughout the bull market cycle. If the percentage of bulls were around 50 percent to 55 percent we'd be less comfortable, and if it were at a more extreme level above 55 percent we'd be concerned, as sentiment is normally a contrary indicator when it's stretched.
The trade linchpin
We are cognizant that a lot of good news has been priced into the market during the rally, especially on the U.S.-China trade front. The market has ticked higher on explicit and implicit signals from officials on both sides of the negotiations.
Market participants don't seem to care about when a phase one trade deal might be signed—whether in November as was originally planned, or whether it gets pushed back to December, as multiple news outlets are reporting could occur.
But we do think market participants care very much that something gets signed by Presidents Trump and Xi. And the more tariffs that are rolled back, the better. News that both sides are working on a framework to roll back tariffs over time, according to Bloomberg, boosted the market on Thursday, only to be refuted later in a Reuters article. If trade negotiations were to hit a snag or worse, we think the U.S. and global equity markets would feel it.
Earnings: Realism required
While Q3 earnings reports were better than feared, our earnings growth expectations remain lukewarm largely due to the potential for subdued economic growth. The S&P 500 consensus forecast for 2020 has drifted down to just under $180 per share, based on Refinitiv I/B/E/S data. We think it will continue to retreat in the months ahead as more management teams update their 2020 forecasts. RBC Capital Markets is anticipating $174 per share next year, which would represent 6.7 percent year-over-year growth—a more realistic level.
It may take some time
We think the major U.S. equity indexes will trade higher over time, but it may take some patience for another meaningful move to materialize. We would maintain Market Weight allocations to U.S. and global equities.