After last week's solid GDP report, data this week quelled near-term concerns that activity may be heading for a slowdown to start the first quarter, with Purchasing Managers' Indexes, jobless claims, construction spending, and durable goods orders all trending in the right direction.
While debate goes on in Washington over the ultimate size and structure of a third fiscal aid package, there is more likelihood it will come in at a number well north of the $750 billion–$1 trillion markets and analysts have generally been expecting.
And as RBC Capital Markets, LLC Chief U.S. Economist Tom Porcelli stated in a note this week "the size of the stimulus is less relevant to the path of economic activity and more relevant for the magnitude of the change. In other words, economic activity is going up and it is already going to be fairly strong. More stimulus just makes the already strong number stronger."
How much stronger? As the chart shows, consensus expectations as of the January Bloomberg survey had the U.S. economy on track to recover to pre-pandemic levels of economic activity by Q3 2021. RBC Capital Markets is looking for growth of 5.3% this year, after what looks to be a 2.5% drop in activity in 2020 once the final numbers are in. A stimulus package closer to the proposed $1.9 trillion could take that growth number north of 6%; the difference between the U.S. economy recovering not to pre-pandemic levels this year, but to pre-pandemic trend growth—as if the pandemic had never struck. A far cry from the more than three years it took the U.S. economy to recover from the financial crisis in 2008.
Strong policy response likely to fuel faster U.S. recovery
Note: Dashed line shows Bloomberg consensus forecast; real GDP shown as percentage of pre-recession levels in Q4 2007 and Q4 2019.
Of course, much of this depends on the path of COVID-19 and the ongoing rollout of vaccines. But on that front, the rollout continues to gather steam with 34.9 million vaccine doses administered in the U.S. through February 3, exceeding the 26.6 million confirmed COVID-19 cases since the onset of the pandemic, while the trend in new cases is trending notably lower.
Purchasing managers remain confident
But the economic outlook isn't just supported by prospects for fiscal aid. This week, purchasing manager surveys for both the manufacturing and service sectors continue to point to strong demand, according to the Institute for Supply Management. While the headline indexes both remain well-above the breakeven level of 50, which indicates expansion, it's in the details that a sustained recovery appears to be firmly in place.
As one respondent stated: "Business is very good. Customer inventories are low, with a significant order backlog through April. Supply base is struggling to keep up with demand, disrupting our production here and there. Raw material lead times have been extended. COVID-19 continues to cause challenges throughout the supply chain. Huge logistics challenges, especially in getting product through ports and in getting containers. We are seeing significant cost increases in logistics and raw materials."
The chart shows that this kind of sentiment is widespread across U.S. manufacturing. The index on customer inventory levels is near the lowest on record—another factor supportive of the growth outlook as companies will need to bring inventories back to more-normal levels to meet projected demand later in the year. At the same time, manufacturers have lofty levels of order backlogs to work through in the coming months and quarters which should, at a minimum, maintain activity. The pricing story is where things get interesting, as rising input costs across the board, from apparel to paper, and plastics to primary metals, have pushed the ISM Manufacturing Report on Business Prices Index near the highest levels on record.
U.S. manufacturing: Demand remains robust
Low inventories, rising backlogs support growth outlook, but cost pressures building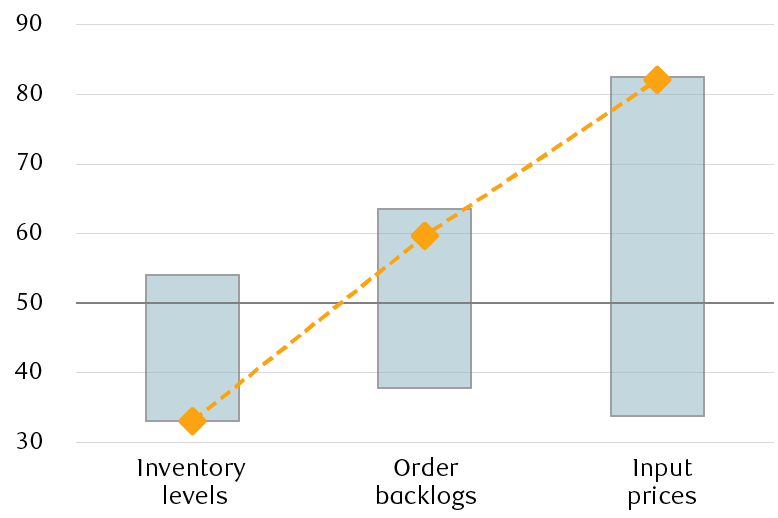 Levels above 50 indicate expansion, below 50 contraction.
Source - RBC Wealth Management, Bloomberg, Institute for Supply Management
That should boost inflationary impulses through the producer side, but how much of that is passed along to the consumer remains to be seen. But with still-high unemployment, we think it's minimal over the near term. However, as the economy reopens further, and with supply chain constraints likely to continue, we think this dynamic will be one to watch.
Market signals abound
Just more than a year removed from inverted Treasury yield curves, where short-term rates are higher than long-term rates, which signals heightened recession risks, markets are now focused on steepening yield curves, yet another sign of an improving growth and inflation outlook.
This week, one of the benchmark indicators, the yield spread between 2-year Treasury notes and 10-year Treasury notes, crossed above 1% for the first time since late 2016, when growth optimism was improving ahead of tax reform expectations. Despite recent market volatility, markets continue to trade on the growth and reflation theme that has prevailed for some time.
Fed impact
Of course, downside risks remain, and uncertainty remains abnormally elevated, particularly around the Fed as stronger growth and higher inflation are already fueling fears the Fed could dial back asset purchases. But as Fed Chair Jerome Powell noted last week, the Fed already largely expects these types of inflationary pressures to play out over the course of the year, but essentially characterized them as "transitory" phenomena. We expect Fed policy to remain as is for the balance of 2021.
The data continues to show the value of a robust policy response from both the fiscal and monetary front, and of not pulling back prematurely, and while much of the outlook remains dependent on the path of COVID-19, with plenty still to be done, the tailwinds suggest to us plenty of reason for optimism.
This article was originally published in the Global Insight Weekly with the title "A low bar for high growth?"