Recent U.S. leadership changes, ongoing demands for social justice and a global push for environmental reform are creating important themes we believe may spark investment conversations. This newsletter outlines a few key topics with potential investment ideas for 2021. Furthermore, RBC teams across Wealth Management, Global Asset Management and Capital Markets continue to release thought leadership, providing timely pieces we hope may provide further insights.
1. A changed political climate for environmental investing
The new presidential administration's ensuing policies, RBC Wealth Management believes, may be a tailwind for responsible investing. Addressing climate change is a key priority for President Joe Biden; as one of his first acts, Biden signed a flurry of executive orders meant to confront the "profound climate crisis," including rejoining the Paris Climate Agreement.1 In the U.S.'s new leadership comes a deliberate focus to integrate environmental policy across every federal agency.2
RBC Wealth Management's Vice President of Responsible Investing Kent McClanahan highlights several investment opportunities that may arise as a result of the Biden Administration's climate change policies in his piece, "A climate of opportunity." Kent details anticipated themes of infrastructure, renewable energy, carbon emission reduction, and new technologies that may be expressed via portfolio investments.
2. Stakeholder-capitalism and accountability
As 2020 made clear, investors can and continue to have impact on the ways companies are held accountable. Whereas 2020 was coined the "Year of S", we believe 2021 will continue to amplify the S. Stakeholders remain focused on social factors. Addressing systemic racism, transparency around employee diversity and inclusion initiatives, and political donation ties may be especially relevant. Meanwhile, inconsistent data reporting, disclosures and much less formalized metrics make tracking who is doing what extremely daunting. While global regulators are prioritizing disclosure transparency and standardization, we want to acknowledge the current landscape's confusing, difficult navigation for advisors and clients alike.
For clients, the key question may be, "How do we best align distinctive investor portfolio goals with equally unique values around responsible investing?" We believe increased demand for company-level accountability is rising alongside increased supply of resources to meet this ongoing question.
These resources include investment overlay screens that allow clients to screen sectors deemed material from environmental, social and/or governance aspects. RBC Wealth Management has a dedicated in-house due diligence team, as well as third-party rating resources, to provide advisors with up-to-date insights and reporting metrics. For clients, having conversations with your advisor to define together what responsible investing means to you—along with discussing together different terms and definitions (the jargon of responsible investing)—may open the door.
3. Investment growth
Dedicated investment resources and tools are especially important, we believe, as growth continues with responsible investing product launches and flows. Updated from last quarter's Insights into responsible investing issue, inflows into U.S. Sustainable Fund Flows (as defined by Morningstar) through December 31, 2020, reached $51.1 billion.3
* Source: Morningstar Direct. Data as of 12/31/2020. Includes ESG Integration, Impact, and Sustainable Sector funds as defined in Sustainable Funds U.S. Landscape Report, 2018. Includes funds that have been liquidated; does not include fund of funds.
While flows across asset classes continue to reach new highs, we have observed that fixed income products in the responsible investing universe are evolving rapidly. Green, social and sustainability bonds are trending. Before going into the numbers and as means of cutting through the jargon, we want to define green bonds, social bonds and sustainability bonds. These three bond categories are virtually identical to traditional bonds in terms of their structure, risk and returns. The main difference of green, social and sustainability bonds from traditional bonds lie in their use of proceeds.
Green bonds: Proceeds are typically used to partially/fully (re)finance new and/or existing climate- or environment-related projects. This includes, for example, investments in renewable energy or low carbon buildings. This bond category is expected to reach $500 billion worldwide in 2021.4
Social bonds: Proceeds are typically used to partially/fully (re)finance new and/or existing social welfare investments for an identified target population, with a neutral or positive impact on the environment. Examples include affordable housing and community development projects.
Sustainability bonds: Consider these a hybrid of green and social bonds. They are expected to provide environmental and social benefits for the identified target population. Sustainability bonds can be used to partially or fully (re)finance new and/or existing projects. Examples include education and sustainability research, modernization of education and public health facilities.
As the chart below shows, issuance in under a decade has grown exponentially. We believe the growth of supply and issuance provides a promising opportunity set for investors seeking fixed income exposures globally.5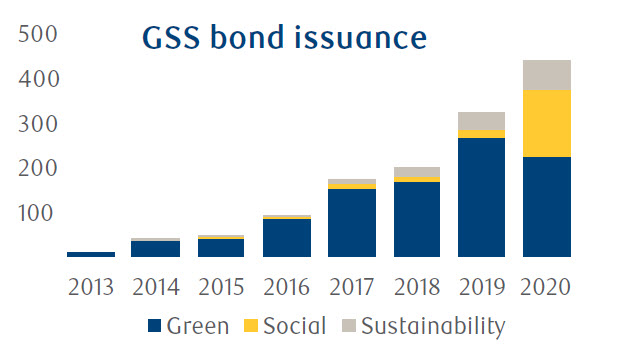 (as of 12/24/20)
Climate Bonds Initiative (Green Bond Data) and Bloomberg(Social and Sustainability Bond Data)
4. Sustainability and biodiversity
Having touched upon current and ongoing trends, we believe that looking forward, this year will bring to light biodiversity as a topic of global concern. Biodiversity refers to the variety of living species on Earth. This includes plants, animals, humans, bacteria and fungi. Biodiversity is attributable to the planet's ecosystem survival. The Earth's biodiversity is being threatened, it is believed, with species extinction due to human activities. The United Nations Convention on Biological Diversity (CBD COP15) in May 2021 intends to focus on biodiversity and how to finance it.7
Biodiversity has been the focus of private companies as well, with financial institutions signing up for the Finance for Biodiversity Pledge.8 This pledge commits those that sign it to share knowledge on assessment methodologies and biodiversity-related metrics, engage with portfolio companies on their impacts on biodiversity, assess the impact of their own activities, set and disclose targets for negative reduction in biodiversity and report on them annually. These financial institutions have until 2024 to complete these initial steps. We believe that this theme will be a key topic for additional discussions with your financial advisors; potentially generating new investment opportunities in 2021.
Looking for additional insights about responsible investing?
Download our Q1 2021 Insights into responsible investing newsletter