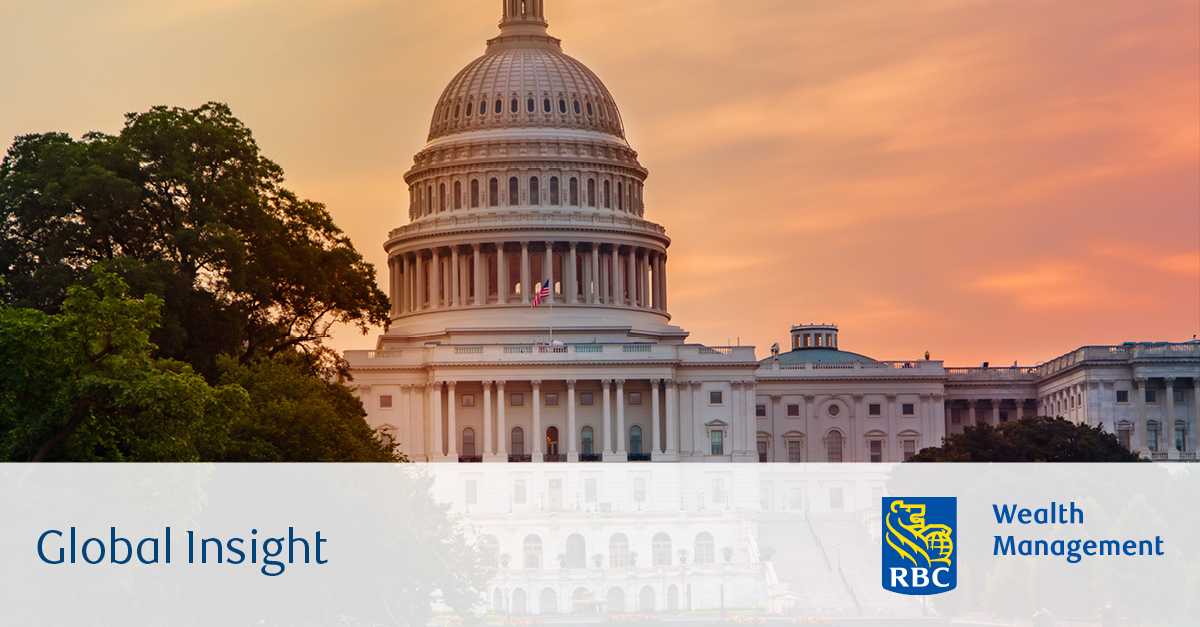 The stark political divide, which has existed in the current Congress, will extend into the next Congress. Only instead of the Democratic Party narrowly controlling the House of Representatives, the Republicans will take the reins with a small majority. The margin of the Democrats' control of the Senate—whether with 51 seats or with 50 seats through the vice president's tie-breaking vote—will come down to a run-off election in Georgia on December 6.
Regardless of the final vote tallies, two-party rule has returned to Washington. In previous years, the stock market has responded positively to such periods—otherwise known as "gridlock."
A study by RBC Capital Markets going back to 1932 found that S&P 500 returns were the strongest when the Democratic Party controlled the presidency and Republicans controlled one chamber of Congress. The average annual return was 14 percent.
The U.S. market has historically performed well during certain forms of divided government
Average annual S&P 500 returns when different political parties were in control of the federal government since 1932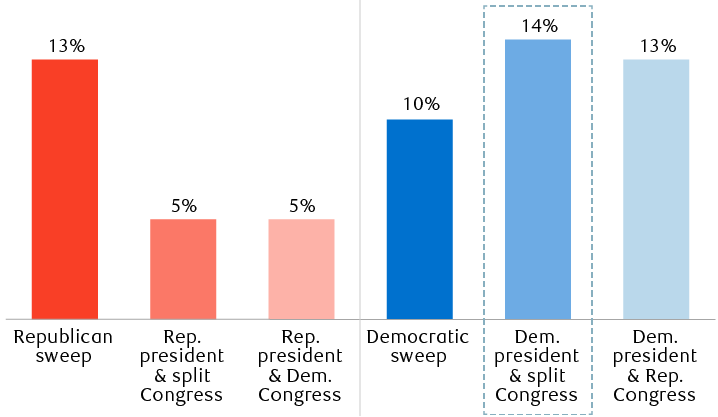 Column chart showing historical S&P 500 annual returns under various party control scenarios of the federal government. Returns are as follows. The S&P 500 rose 13%, on average, during periods of a Republican sweep (when the party controlled the presidency and both chambers of Congress). It rose 5% when the Republicans controlled the presidency and control of the Congress was split between Republicans and Democrats. It also rose 5% when Republicans controlled the presidency and the Democrats controlled both chambers of Congress. It rose 10% during periods of a Democratic sweep. It rose 14% when Democrats controlled the presidency and control of Congress was split between Republicans and Democrats. It rose 13% when Democrats controlled the presidency and Republicans controlled both chambers of Congress. Most recent polls indicate that during this midterm election cycle, the last two party control scenarios are the most likely.
Divided drama
When midterm elections lead to a divided government, there is typically plenty of drama in Washington, but little gets done. Much of the time is spent setting the table for the upcoming presidential election campaign with both political parties pushing their narratives. So if you're tired of politics now, just imagine how you will feel in two years!
During the campaign, House Republican leaders identified seven issues they plan to focus on in the upcoming 118th Congress, as shown in the table below.
Seven special task forces likely to be established in the Republican-controlled House of Representatives
| Task force | Issues |
| --- | --- |
| American Security | Border security, law enforecement, cyber security |
| Big Tech Censorship & Data | Accountability for Big Tech; consider Section 230 reform; address competition, and privacy and security matters |
| China Accountability | Develop "cross-jurisdictional policy solutions for our strategic competition" with China; includes COVID-19 investigation, supply chains, and proper resourcing of U.S. military and diplomats in the China direction |
| Energy, Climate & Conservation | Promote innovation, invest in clean energy infrastructure, implement "initiatives in national solutions and conservation,"and "Unlock American Resources" initiative |
| Future of American Freedoms | Parents Bill of Rights; freedom of speech and worship, and the right to bear arms |
| Health Future | Health care proposals regarding doctor/patient relationship, and affordable health care tailored to individual needs |
| Jobs & the Economy | Jobs and careers for the 21st Century; promote free enterprise; address the regulatory regime |
Source - House Republican leadership's "Commitment to America" agenda
We don't expect much meaningful legislation to pass in the House related to these issues given the slim majority. The current Congress led narrowly by the Democrats faced similar challenges. But they were able to pass legislation on a few consequential issues due to strict party discipline.
In at least the past three decades, slender Republican majorities have tended to be less disciplined—meaning small groups of moderate members tended to break ranks on key issues, thus rendering it difficult to pass legislation with a slim majority. We think this phenomenon will be exacerbated in the 118th Congress given the power struggle that has arisen between establishment Republicans and more conservative and populist members of the party, as well as because of some differences in priorities even between the latter two groups. These tensions have increased due to the party's underperformance vis-à-vis pre-election polls and disagreements about candidates that were recruited to run.
Nevertheless, the seven issues identified in the table will likely shape House Republican narratives over the next two years. Some of the issues could work their way into the Republican Party's 2024 presidential primary campaign, which, at the moment, is looking like a showdown between former President Donald Trump and Florida Governor Ron DeSantis.
Neutral-to-bullish impact on equity industries
Most RBC Capital Markets industry analysts believe Republican control of the House will have a neutral or bullish impact on the industries and stocks they follow.
A "very bullish" assessment goes to the oil and gas exploration and production industry. A range of industries in the Consumer Discretionary, Communication Services, Energy, Financials, and Industrials sectors are expected to see a "bullish" impact, as the table below shows. And the shift in party control is deemed to have a "bearish" impact on one industry: Forest products.
RBC analysts anticipate a mostly neutral-to-bullish impact on select equity industries
RBC Capital Markets equity analysts' rankings of the impact on their industries by category with Republicans taking at least some control of Congress
Very bullish

Bullish

Neutral

Bearish

Very bearish

Oil & gas exploration and production

Internet/Retail & travel
Internet/Social & search
Cable
Telecom
Media
Refiners
Midstream
MLPs

Specialty/Cons. Finance
Regional banks
Biotechnology
Multi-industrial
Electrical equip.
Railroads
Aerospace
Defense

42 industries in 10 of 11 sectors

None
Source - RBC Capital Markets U.S. Equity Strategy, RBC Capital Markets industry analysts; data from the early-October 2022 RBC U.S. equity analyst survey
Following are a few additional highlights:
Energy sector: Proposals for windfall taxes on oil and gas companies will likely go nowhere in the Republican-controlled House and we doubt they would have support in the Senate either. RBC Capital Markets' commodity team anticipates there will be modest compromises that will benefit the Energy sector. They wrote, "A change in congressional control will likely force the White House to move towards the center in order to get additional agenda items passed before the 2024 campaign commences in earnest. When it comes to energy policy specifically, we think the Biden administration may have to make tradeoffs on the regulatory front—particularly around additional permitting for oil and gas projects and pipelines—in order to secure Republican support for climate initiatives such as additional tax credits for renewables." But we think it's unlikely that broad-based oil and gas permitting reform will take place given the Republicans' narrow House majority and the fact that 60 votes are typically required to pass legislation in the Senate, and given the Biden administration's lack of appetite and the outright opposition from the progressive wing of the Democratic Party.
Alternative energy: RBC Capital Markets believes the green energy provisions in the Inflation Reduction Act (IRA), recently signed into law, will largely remain intact despite the House Republican leadership's desire to repeal some of its components and put key provisions under scrutiny in committee hearings. The votes to repeal the IRA won't exist, in their assessment. The White House has already secured much of the green energy funding in the IRA and the infrastructure bill signed into law in 2021. But large-scale additional funding is unlikely.
Financials sector/banks: The threat of new regulatory scrutiny is reduced with the Republicans controlling the House—although this has not been a major headwind in recent years. RBC Capital Markets, LLC's Head of U.S. Equity Strategy Lori Calvasina is constructive on the sector as a whole and banks in particular. She wrote, "From a macro perspective, we like the sector's strong buyback and dividend profile and attractive valuations. Earnings revisions haven't been as strong as areas like Energy and REITs, but have generally been more resilient than other parts of the equity market. [The sector] tends to lag in recession drawdowns and outperform in recession rebounds. Our analysts see the banks in a much better position today compared to the onset of prior recessions, however, and think earnings can stay resilient."
Defense: RBC Capital Markets, LLC's aerospace and defense analyst Ken Herbert sees reasons to be bullish about this industry above and beyond the benefits that Republican control of the House could bring. While there are risks related to earnings results for the remainder of this year, there are medium-term catalysts. Herbert wrote, "… we believe bookings strength will be strong for the sector, and we continue to view the set-up into 2023 as favorable (easy 1H23 comparisons, higher U.S. and international defense spending, increased NATO spending, greater push for foreign military sales under the current administration)." Separately, right before the election DefenseNews reported, "The Pentagon's chief weapons buyer said he expects Congress to approve new authorities and spending to expand U.S. weapons production in a manner unseen since the Cold War." The legislation would authorize billions of dollars in multiyear contracts for munitions firms to build out production lines. For years, Defense Department and weapons funding have been bipartisan ventures; there is an army of lobbyists behind this spending. Despite the lofty size of the federal debt and its ever-upward trajectory, we don't think the penchant for robust defense and weapons funding will change anytime soon.
Amplified rhetoric toward China
We anticipate rhetoric regarding China will become more hawkish, spurred on by the "China Accountability" task force that House Republicans will likely create and any alleged China connections that might be raised during the course of anticipated congressional oversight investigations.
Five potential investigations in the Republican-controlled House of Representatives
Hunter Biden and Biden family business activities
Alleged politicization in the Department of Justice
COVID-19 origins and policies
Afghanistan withdrawal
Handling of U.S.-Mexico border
Source - The Hill
It's important to recognize, however, that currently there is broad bipartisan support in Washington for increasing pressure on China pertaining to the technology industry, supply chains, national security issues, and Taiwan. Polls indicate the American public largely supports this—it's one of the few areas in which the majority of voters, and the Republican and Democratic leaders in Congress agree.
We think House Republicans' China task force and investigations could spur the Biden administration to respond in kind by eventually ratcheting up its anti-China rhetoric and could ultimately result in more restrictions on select Chinese industries, companies, entities, and officials. Both political parties will likely attempt to outdo each other in this area heading into the 2024 presidential election. It's politically expedient, and some politicians in Washington have strong convictions on this topic.
However, a more hawkish posture would be concerning to us from the standpoint of economic security—an often overlooked but important component of national security. This would especially be the case if the strategic confrontation between the U.S. and China escalates further in coming years. Trade restrictions and sanctions don't exist in a vacuum. Countries that are targeted typically respond symmetrically or asymmetrically in proportion to their economic leverage or power. The tit-for-tat sanctions and economic war with Russia have demonstrated that restrictions can boomerang on the populations and businesses of countries that initiate them (in this case, the most blowback was received by the EU, which had the greatest linkages to Russia), and can have a number of unintended consequences. There is little evidence that U.S. and other Western leaders have learned this lesson yet, and we think the economic boomerang risks for the U.S. pertaining to China are far greater than with Russia.
In the near term, the competitive rhetoric will likely become sharper and louder, and policies more confrontational. Additionally, we believe the U.S. will further exhort its Western allies to diminish economic ties with China. All of this could create volatility for global equity markets and targeted industries on occasion.
Given the deep, long-standing economic ties and interdependencies between the U.S. and China, perhaps cooler heads will prevail over time. There are plenty of economic and business incentives for this, from our vantage point.
In rhythm?
While political rhetoric will likely heat up on a number of issues in the 118th Congress, we think a key takeaway for investors is that the U.S. stock market has a rhythm when it comes to the midterms, regardless of the election's specific outcomes and contours.
Since 1934, there has typically been a big selloff in the 12-month period before the midterm election, and then a rally into the following year, as we pointed out in a previous article that discussed historical returns.
Corrections are common in midterm years, and so are follow-on rallies
S&P 500 returns surrounding midterm elections (1934–2019)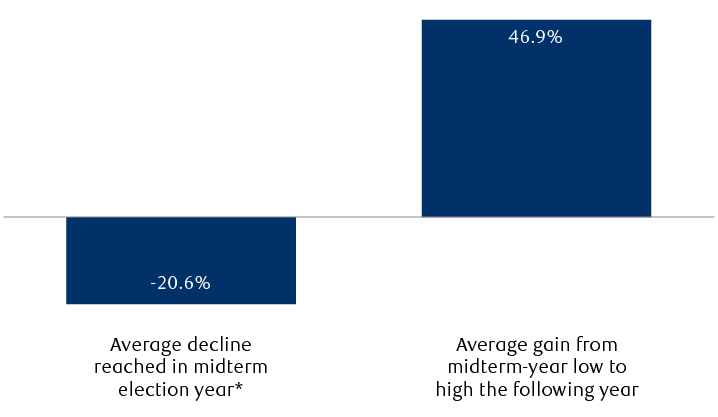 Column chart showing S&P 500 performance surrounding midterm elections. The average decline reached in the midterm election year was 20.6%. The decline is measured from the peak within 12 months before the midterm election year low, to that low. In 22 of 23 instances, the low was reached before the midterm election; the exception was in 2018 when it occurred after the election. The average gain from the midterm year low to the high the following year was 46.9%.
* Measured from the peak within 12 months before the midterm election year low, to that low. In 22 of 23 instances, the low was reached before the midterm election; the exception was in 2018 when it occurred after the election.
Source - RBC Wealth Management, Bloomberg; performance surrounding 22 midterm election years
This go-around, the correction has been nearly right on queue. The S&P 500 declined 25 percent from its January 2022 peak through the recent mid-October low. While this is more than the 20.6 percent average decline of all 22 midterm election periods we looked at, it's similar to the average 23.4 percent decline that occurred in midterm election periods associated with inflation shocks.
Of course, the fact that the market rallied sharply, by 46.9 percent on average, following previous midterm elections doesn't guarantee we will get such a strong move this time. The range of returns that make up the 46.9 percent average is wide enough to drive a truck through. On one occasion the gain was as low as 15 percent, and on another occasion the gain was as high as 87 percent, and the other 20 returns were somewhere in-between.
Interestingly, and not surprisingly, the returns were somewhat less robust during inflationary periods:
14.7 percent to 69.2 percent rallies occurred in inflationary periods
22.3 percent to 87.1 percent rallies occurred in non-inflationary periods
But none of the post-midterm election periods had negative returns
Furthermore, in the year following the midterms, a new all-time high was reached on:
67 percent of occasions in inflationary periods
88 percent of occasions in non-inflationary periods
Inflation or not, this is a pretty good track record for the market. If history is a guide, perhaps the period following the midterm election year low through the 2023 high will deliver a low double-digit rally or better.