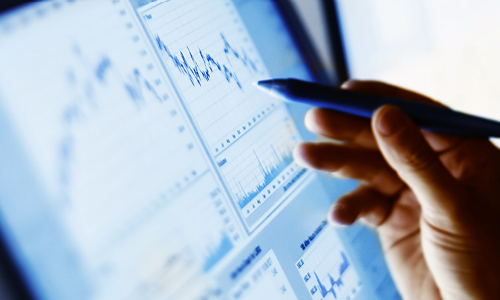 The latest jolt to financial markets occurred after global economic risks came to the fore with two of the world's largest economies, Germany and China, losing further momentum.
For the time being, equity markets seem to be held captive by bond markets. Even though the S&P 500 hit an all-time high less than three weeks ago, it has struggled of late as recession risks have risen, retreating 5.9% from the peak. Global indexes have declined by similar magnitudes.
With global growth in doubt and $16T in sovereign bonds trading at negative yields, investors around the world continued to rush into "safe-haven" U.S. Treasuries with relatively higher yields—despite the fact these yields are at or near historical lows.
Yield curve inversion points to economic risks
Difference (spread) between various points on the U.S. Treasury yield curve in basis points
Amid the feeding frenzy, the 30-year Treasury note dropped to its lowest yield in history at 1.97%, and more segments of the Treasury yield curve inverted, signaling that U.S. recession risks have risen.
Staying focused on recession indicators throughout this 10-year expansion cycle has allowed us to stay invested in equities and avoid the distractions of midcycle slowdowns and market corrections. While reasonable arguments can be made that the economic expansion (and bull market) can continue for some time, for the first time in a decade recession risks have risen materially. We believe this should not be ignored, and the risks should be factored into equity positioning.
Crossed signals
Softer global trends illustrate that the U.S.-China trade war is not without consequences. Uncertainties about the endgame and the White House's shifting tactics are taking a toll.
CEOs of large and small multinational companies with exposure to China, whether domiciled in the U.S. or elsewhere, are increasingly cautious about their next moves. In some cases, supply chain relationships are in flux and capital spending plans are being altered. Business confidence is below last year's levels based on a number of metrics.
President Trump's recent gesture to push back tariffs on roughly $156B in Chinese consumer goods from September to December in order to avoid negatively impacting the holiday shopping season boosted equities for one day. But the holiday gift quickly lost its appeal, in our view, because pushing out the deadline fails to quell the uncertainties about whether or when a trade deal will be inked. If anything, it is yet another signal the trade dispute could drag on and on. The erosion in corporate confidence will likely persist.
Trump's recent tweet seemingly tying a resolution to the Hong Kong violence and protests to a trade deal is another abrupt shift that sends mixed messages and raises uncertainties. Just hours after a key trade official, Commerce Secretary Wilbur Ross, said on CNBC that developments in Hong Kong are an "internal matter," Trump tweeted, "… Of course China wants to make a [trade] deal. Let them work humanely with Hong Kong first!"
We're also mindful there are external risks in the background that could ultimately impact the global economy and equity markets: a "no-deal" Brexit, additional Hong Kong developments, Argentina's renewed debt and currency risks, the new phase in India's conflict with Pakistan over Kashmir, and the ongoing clash between the U.S. and Iran. Geopolitical risks are almost always with us to varying degrees, and financial markets can largely afford to ignore them—unless they intensify.
The U.S. has a relatively insulated economy that is not dependent on exports, and domestic economic momentum has been stronger than its peers. But the U.S. is not an island unto itself. It's unclear whether overseas weakness will ultimately push the domestic economy into recession.
The first domino?
We continue to look to key economic indicators to gauge the degree to which U.S. recession risks have risen and what that might mean for the equity market.
The further inversion of the Treasury yield curve, an important indicator that typically moves first among others we monitor, underscores to us that U.S. recession risks have indeed risen. This indicator has been flashing a "yellow" caution signal for months. In our assessment, it is now flashing "red."
When the yield curve is inverted, short-term rates are higher than long-term rates, opposite of what normally occurs. Key segments of the yield curve have become more inverted recently, and the 2-year to 10-year portion briefly inverted on Wednesday for the first time since June 2007, six months before the last recession began.
Yield curve inversions often precede recessions by a number of months. Since the 1950s, it took 14 months, on average, for a U.S. recession to begin after an inversion of the 12-month to 10-year yield curve (see upper table below). During this time only one false signal was given, in the mid-1960s, when the curve inverted but no recession materialized.
U.S. Treasury yield curve track record
12-month to 10-year yield curve
U.S. economy: The yield curve has typically inverted before a recession begins
Stock market: The S&P 500 has peaked about six months after inversion, on average, but the timing has varied considerably
Source - RBC Wealth Management, Bloomberg, Federal Reserve, National Bureau of Economic Research
Historically, the S&P 500 peaked about six months after inversion, on average. The timing varied considerably, from -2 to 21 months, so this is not a reliable market timing mechanism (see lower table above). On a number of occasions the S&P 500 moved to new highs after inversion, and then shifted into a bear market before or during the forthcoming recession.
RBC Capital Markets U.S. Economics points out there are a number of circumstances in place that may make the yield curve a less valuable signal today, including the unusually low (and negative) yields globally. As a result, the Treasury yield curve can be viewed as more of a referendum on global trends than U.S. growth. Furthermore, credit is not tight in the U.S.; businesses and households find it easy to borrow. Tight credit normally accompanies an inverted yield curve and heightened recession risks.
These factors are important to consider, but we generally caution against fully embracing a "this time it's different" thesis given each period is shaped by unique contours. We think investors should heed the inversion signal given its strong historical track record.
Even with elevated risks from the yield curve inversion, a recession is not a fait accompli. We take some comfort that our other U.S. recession indicators have yet to flash red or even yellow. Employment data, leading economic indicators, and the level of manufacturing new orders versus inventories are still signaling that GDP growth should persist for at least the next 12 months (see table). In addition, consumer spending is strong and wages are elevated.
Yield curve indicator shifts from yellow to red
RBC Wealth Management U.S. economic indicator scorecard
Source - RBC Wealth Management, Bloomberg, FRED Economic Data St. Louis Fed
Diminishing appetite
With an important recession indicator now flashing "red," and the others still in the "green" zone, we think some additional caution is warranted, with an eye toward potentially making more defensive adjustments to equity portfolios in coming months.