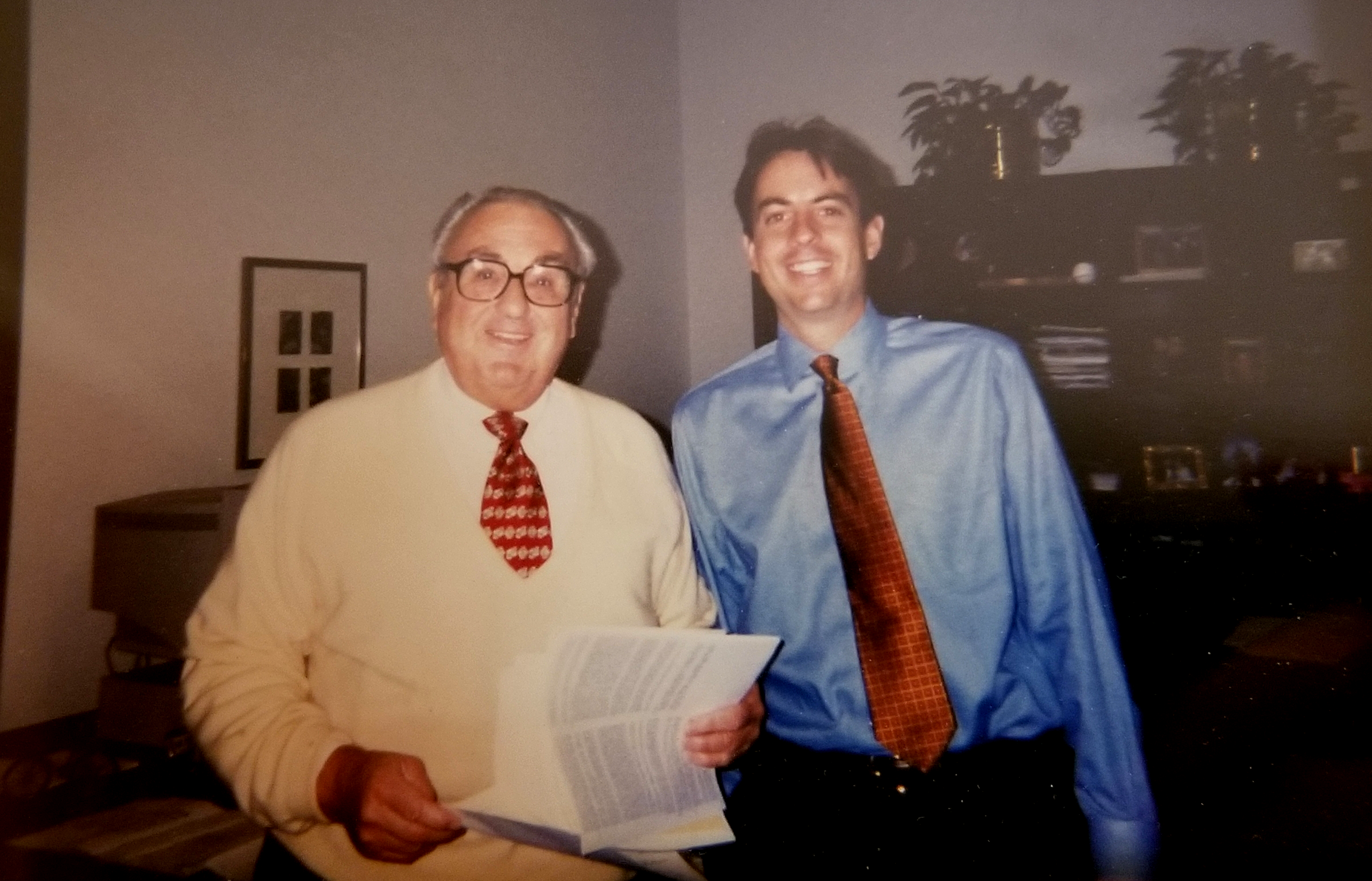 Not a day goes by that I don't think of my father. He came into the business in 1950 and retired in 2000 after 50 years. He truly had seen it all. I always say his best trade ever was retiring in 2000 right before the market fell 50%. As a young child I really had no idea what my father did for a living. Starting as an accountant for DuPont right out of Lehigh University, he was encouraged to return to Hagerstown to become a "customer's man" or someone in charge of a client's brokerage account. He thrived in the business and built a reputation for ferreting out undervalued stocks and positioning them in clients' portfolios. He would buy local bank stocks and as he said, "sit back and wait for the big pop" - the takeover announcement. Back in the day, it was all individual contact on every transaction. He loved the interaction with clients and built many friendships over the years. Our team still currently works with some of his original clients and their descendants.
As I worked my way through Lehigh, I wondered about my future. Law interested me, as did my love for animals. Would I be a good prosecuting attorney, or should I be a veterinarian? As I completed my coursework, I began to thoroughly enjoy my investment classes. Why do securities trade the way they do? How can you determine good value and bright prospects for the future? I began to contemplate a future as an investment advisor. When graduation approached I began the interview process with many firms that no longer exist, or have since been acquired by larger firms. A common discussion during interview process was, "You should go back and work under your father. He's one of the most respected in the Mid-Atlantic." As I began to contemplate coming home and joining Ferris & Co., I received a hard close from my father, "If you want to come into the business the time is now, as I'm getting ready to retire." At the conclusion of the interview process, I was offered a position. One of the analysts I talked to said, "So you're going to take scraps off your father's table." That lit a fire in my belly that has never left. So I joined him and we worked side by side for 15 years. I often wondered what "getting ready to retire" meant to him.
It was a great experience working with him every day. I saw and learned things about him that I would never have seen at home. His passion for the business was incredible, and he developed wonderful relationships over the years, as clients became lifelong friends. He truly invested for his clients and bought the same securities for himself. He left me with invaluable experience that has shaped the way I do business today. I'm proud to pass this on to Gerry and Laura, as our team continues his legacy.
---
Some of Jack's quotes that he developed and gleaned from others:
1) If you do what's right for the client the rest will take care of itself.
After learning a client's goals and objectives, invest the money as you were in their shoes. No high commission Wall Street products for him, mostly straight stocks and bonds. He was ahead of his time acting in a fiduciary capacity. While it wouldn't fly under today's financial regulations, he was notorious for calling clients to say, "I just bought 500 for my own account." It was always true.
2) Buy them when they're out of favor and sell them when they are fashionable. If it's a good company, you can hold it for very long periods of time.
Flashing back to the Monday October 19, 1987, or Black Monday as it's known, the market fell 22% in a day. Could you imagine? He sat in his chair, cool as a cucumber, putting buy after buy orders in for his clients. I was only in the business a little over a year and was in awe of his confidence. I had just returned from a long weekend in Mexico with no CNN or internet. All the stocks on my screen had been reduced by 20%. It was my first lesson in market volatility, and a big one at that. Honestly I'm glad I didn't have too many clients back then as navigating that environment was difficult. The moral of the story: short-term fear creates long-term opportunities.
3) Volatility is the price you pay for long-term wealth accumulation.
If it was easy everyone would have every dollar in the market. Down markets test your commitment to your investment plan.
4) Emotions are the single biggest factor setting short-term prices in the market.
He frequently said, "The pendulum swings too far in both directions. Enthusiasm leads to a short-term top, while pessimism creates long-term opportunities."
5) This is a contact sport.
Building your business was making a lot of contacts and community service was a big part of that. He was president of several local non-profits, and he served for extraordinary periods of time. He enjoyed helping the organizations with capital campaigns by leveraging his wealth creation for clients to help those in need.
6) If the market corrects you should have enough faith to buy more of what you own.
When purchasing securities or when hiring an outside manager, have the confidence to add more if, as he said, "the market gives you a George Washington's Birthday Sale."
We often get questions on cryptocurrency. I've stayed away from these securities for the most part, as I just don't have the confidence to buy more if it fell 50%. It would be the exact opposite if quality companies fell in value. It would be time to step up and buy more.
---
Working with my father for those 15 years were some of the best years of my life. We had separate books of business, as I wanted to build my business on my own. I learned so much during that time period. The opportunity to spend each and every day side by side with a mentor of his caliber was special. And for him to be my father created a respect I will always cherish.
Happy Father's Day