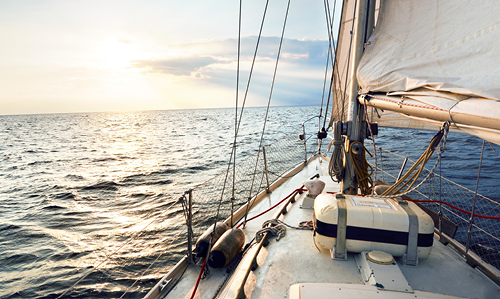 The list of overused idioms in the financial lexicon is as long as it is varied, but above all "canary in the coal mine" might reign supreme—a sign that one event may be warning of broader dangers. Nonetheless, the market found its latest canary this week in the downgrade of Ford Motor Co.'s credit rating to Ba1 from Baa3 by Moody's, relegating the company back to the speculative-grade category for the first time since 2012. Standard & Poor's and Fitch, for their part, maintain a BBB investment-grade rating on Ford with negative outlooks, so for the time being Ford remains in investment-grade indexes.
And the coal mine in this case is the long-simmering concern about the growing size of the BBB-rated U.S. corporate debt market, or the last investment-grade rung before speculative grade, which now constitutes nearly half of the entire U.S. investment-grade debt market, and the subsequent risk that a wave of rating agency downgrades could be forthcoming in the event of an economic downturn.
So amid ongoing recession fears, is the Ford downgrade a sign of broader credit market risks?
Our view remains that BBB-related fears have been overblown. Rating agency downgrades are likely to be driven by company- and industry-specific factors rather than by the macroeconomic environment. This was largely the case with Ford, where Moody's cited the "considerable operating and market challenges facing Ford, and the weak earnings and cash generation likely as the company pursues a lengthy and costly restructuring plan."
While Ford was one of the larger downgrades of late, the number of U.S. firms losing their investment-grade status has actually declined to multiyear lows.
Two sides of the same coin
The number of "fallen angels," or those firms that have been downgraded out of the investment-grade market, has been declining steadily since the collapse in oil prices through 2016 led to a spike in energy company downgrades. But while the number of downgrades to speculative grade has been in decline, so too has the number of "rising stars," or those firms that have improved their credit profiles sufficiently to achieve investment-grade status.
Fallen angels
Annual number of U.S. firms downgraded from investment grade has fallen in recent years
The 2016 decline in oil prices sparked biggest wave of downgrades since the 2009 recession
And while the decline in "fallen angels" should be seen as a positive development, the decline in both categories may simply be a confirmation that the U.S. economy is nearing the later stages of the current economic expansion.
To be sure, rating agencies attempt to rate companies "through" full economic cycles, meaning that an economic downturn wouldn't necessarily kick off a slew of rating agency downgrades. Additionally, agencies tend to be slow to react, so we can turn to the credit markets for signs of how investors are pricing the outlook for corporate credit risks—and it remains the case that credit investors see little stress on the horizon.
Clean bill of health
Credit spreads, or the yield compensation over comparable Treasuries for credit risks, are the primary gauge of the level of risk credit investors see on the horizon. Spreads tend to rise along with greater default risks ahead of potential economic downturns, and decline as the economy improves.
As recession fears have risen on the back of inverting yield curves and amid pockets of weakness in economic data in recent months, we have been on the hunt for confirming recession signals.
Historically, credit markets have offered some of the earliest warning signs as investors demand greater yield compensation for rising default risks. But based on this measure, credit markets simply aren't seeing a U.S. recession on the horizon. The differential between credit spreads on investment-grade BBB-rated debt and speculative-grade BB-rated debt, one way to gauge whether investors are demanding higher yields for riskier debt, recently hit a new cycle low of just 0.55%.
Credit market signals
Few signs of economic stress as credit spreads reach new lows
Note: BB-rated credit spreads typically rise faster than BBB-rated credit spreads ahead of potential economic downturns; Source - RBC Wealth Management, Bloomberg Barclays US Corporate Bond Indexes
But part of the reason credit markets might not be pricing potential risks on the road ahead is that global central banks look set to reassert their influence over markets.
Central bank distortion
The European Central Bank roared back into action following its September 12 meeting, cutting rates further into negative territory, and restarting its quantitative easing program to the tune of €20B per month, an asset purchase program which includes European corporate debt—a move that will likely drive European credit spreads even tighter, potentially fueling more foreign flows into U.S. assets. The Fed will take its turn at its September 18 meeting, where consensus expectations are for another 0.25% rate cut in an effort to sustain the economic expansion.
At this stage, central bank actions might almost supersede to some degree how much weight investors put on underlying fundamentals over the near term, though we would remain somewhat cautious at the later stages of the cycle for buy-and-hold investors.
In both the U.S. and in Europe, we maintain a modest Overweight to corporate bonds, with a bias toward investment grade over speculative grade. While the might of central banks may support the latter, valuations remain rich relative to the risks, in our view.
While recession risks remain in focus, there are few confirming signals that a downturn is imminent. We would continue to watch credit market dynamics for signs of stress, but for now the sailing looks smooth, even if the waters are being calmed somewhat by central banks.