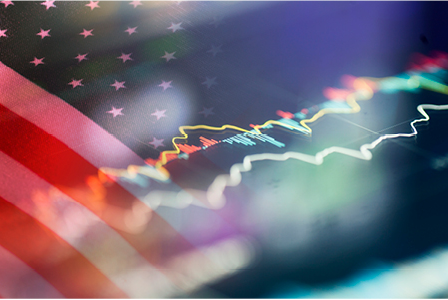 For investors wondering if major central banks had any gas left in the tank, with policy rates still historically low and balance sheets still historically large, the Federal Reserve and the European Central Bank (ECB) both delivered clear messages the week of June 17: we do, and we're prepared to use it.
ECB President Mario Draghi seized the pole position June 17 in a speech that signaled further easing via rate cuts into negative territory could be on the table, and that there remains "considerable headroom" to scale up quantitative easing programs if necessary—a remarkable change in tone from a central bank that has recently pushed back against the idea that further easing was needed.
The Federal Reserve's pledge to stay "patient" this year with respect to adjusting policy rates was barely three months old when it was dropped at the June 19 meeting, with the Fed now stating that it "will act as appropriate to sustain the economic expansion." Additionally, eight officials—nearly half the committee—now foresee at least one rate cut this year, with seven of those envisioning two cuts.
We have long expected the Fed to dust off its playbook of the mid-1990s, when it cut policy rates modestly for "insurance" in the middle of the economic cycle in an effort to extend the expansion rather than to fight a recession, and this remains our base case for the current cycle.
Therefore, we view potential policy easing in a positive light, and the market's initial reaction appears to be agreement as the S&P 500 has reached a new all-time high, while U.S. investment-grade and high-yield corporate debt has rallied strongly.
The U.S. rate hike cycle likely to come to a swift end
We expect a 0.50% rate cut at the July Fed meeting, followed by another 0.25% cut in September.
But with the market now pricing a 100% chance of a Fed rate cut this year, the only questions left are how soon, and by how much?
Time for decisive action on interest rates
Though the Fed has made the most progress among major central banks in raising rates, reaching 2.50% on the federal funds rate, there clearly remains little room to maneuver—so this is no time for half measures. To this point the Fed has stuck with its "gradual" approach to raising rates out of concern that moving too quickly could risk a return to 0%. But at this stage, we think a decidedly different approach is called for. To avoid an early return to 0%, the Fed needs to act decisively and quickly to achieve the most "bang for the buck." Accordingly, we now expect the Fed will cut rates by 0.50% at its July meeting and follow up with a further 0.25% cut in September, after which it will likely take time to survey the monetary policy landscape.
The European economy continues to sail into stiff headwinds, and while the ECB was thought to be tacking toward rate hikes next year, RBC Capital Markets now expects two 10- basis point (bp) cuts in the deposit rate by the end of the year (which would take rates to -0.60%) though it too sees a risk that the ECB could move sooner and deeper. With respect to quantitative easing, we believe the ECB is likely to signal that another round is possible, but unlikely to introduce a new program over the near term.
Is this trip really necessary?
In the U.S., labor markets remain solid, though the pace of hiring has slowed in recent months, and the Fed's latest projections actually upgrade the growth outlook and downgrade inflation expectations despite concerns about the potential economic impact of tariffs. So the story is largely about inflation at the present time: with little inflation in the pipeline, the Fed has room to ease policy modestly with little risk of overheating the economy.
But as the chart shows, concerns about global growth are lingering. Manufacturing purchasing managers' indexes (PMIs), which are highly correlated with economic growth, continue to move lower in the U.S. and across the globe; the global index is now below 50, the level that signals a contraction in manufacturing activity. As PMIs have fallen, the market's expectation of rate cuts has risen. On a fundamental level, there is also a case to be made for central banks to ease policy at this stage.
Global manufacturing activity trending lower, Likelihood of rate cuts trending higher
Source - RBC Wealth Management, Bloomberg, IHS Markit; manufacturing activity based on Markit Purchasing Managers' Indexes; likelihood of rate cuts in 2019 is market consensus based on federal funds futures data.
Drive defensively
Our outlook remains constructive—but cautiously so. While the old adage of "don't fight the Fed" (or central banks generally) still holds for those invested in equities and other risk assets, downside risks for the global economy and the level of uncertainty about the outlook are both rising. Therefore, we remain Market Weight with respect to our allocations to U.S. equities and U.S. fixed income, but maintain defensive postures in both.
For fixed income investors, we have long recommended extending maturities to lock in yields, and with rate cuts looming, we continue to recommend this route even as yields across nearly all sectors move lower.
Central banks have tried to take a passive approach in recent years as global economies continued to recover, but we believe now is the time for them to take an active approach to sustain the expansion.