Equity markets are breathing a sigh of relief as three political developments boosted major indexes worldwide in recent trading sessions:
The U.S. and China agreed to meet in October in Washington to restart trade negotiations
The U.K. House of Commons moved closer to preventing a "no-deal" Brexit, at least for the near term
Hong Kong's leader formally withdrew the controversial extradition bill
Markets' positive reaction has less to do with politics per se and more to do with the potential impact that public policy decisions can have on economic growth and corporate earnings.
The data are clear that the U.S.-China trade dispute has already constrained global economic growth and has begun to show up in U.S. sectors as well. It threatens to apply additional pressure if the conflict goes unchecked or escalates. So any development that calms the choppy tariff waters should be viewed constructively by markets, even if there are bigger geopolitical rivalries at play.
There is also no doubt to us that Brexit uncertainties have negatively impacted the U.K. and European economies. While there is a long way to go before this issue is resolved, the possible removal of a near-term messy exit from the EU is far better to us than the alternative.
The U.S. valuation is somewhat elevated; other regions are near average levels
12-month forward price-to-earnings ratios based on consensus forecasts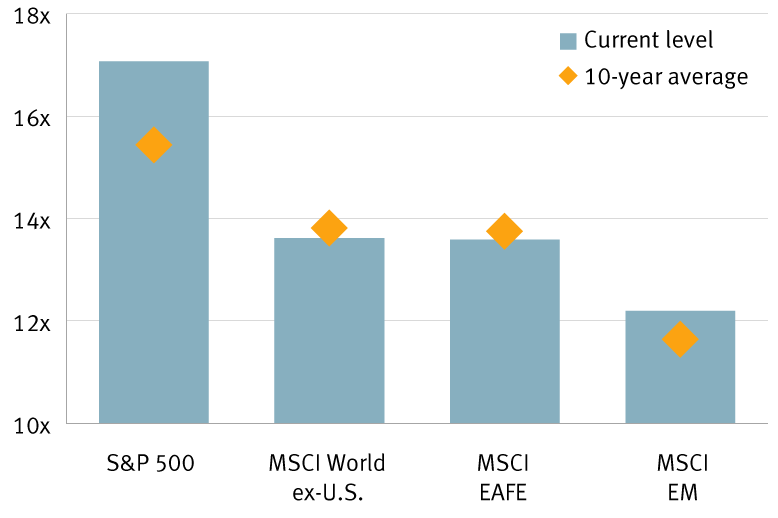 The daily political headlines are eye-catching to be sure, and they can temporarily swing markets in either direction. We think it's prudent for long-term investors to focus primarily on economic and corporate earnings prospects that can be impacted by public policy decisions. In this connection, there are cautionary signals on both fronts.
Dents in the economic armor
We view the state of the global economy as fragile and the U.S. economy as relatively firmer but with some weak spots.
Growth in Europe and Asia has slumped and some countries in these regions are near recession.
Germany's economy—the world's fourth-largest—is flat on its back. GDP contracted slightly in Q2 q/q and the manufacturing sector has fallen deep into recession territory. The U.S.-China trade dispute has negatively impacted the once-stalwart German industrial sector, but Brexit uncertainties and domestic and EU structural imbalances have taken their toll as well.
Trade issues aside, China's economy is still working through a deleveraging process that has detracted from GDP growth.
In the U.S., one of our six recession indicators—the yield curve—began to flash a red recessionary warning sign in mid-August. Just recently, a leading indicator of manufacturing started to blink yellow.
Neither of these signals spells automatic gloom and doom for the U.S. economy, and our other four indicators are still forecasting that the 10-year expansion can persist. Key segments of the U.S. economy such as household spending and services remain healthy.
But some of our recession indicators could potentially deteriorate in the months ahead. Taken as a group, rather than individually, they have given us a reliable picture of how the recession probabilities are shifting. For a breakdown of where each indicator currently stands, see the September Global Insight article, "A new phase."
2020 earnings estimates earn attention
Regarding corporate earnings, there is not much risk to 2019 S&P 500 estimates, in our view. RBC Capital Markets forecasts $166 per share, which is slightly above the consensus forecast. This would represent 2.5% y/y growth—not great, but acceptable given it comes on top of a 23% earnings surge in 2018. If manufacturing trends deteriorate further, RBC's 2019 forecast could come down modestly given this highly cyclical sector tends to be positively correlated with changes in earnings estimates.
2020 earnings estimates have a wider range of outcomes, according to an RBC Capital Markets study. The consensus forecast of $183 per share is too lofty, in our view. This outcome only seems possible if the domestic and global economies rebound meaningfully. We don't see signs that this will occur. We anticipate the 2020 consensus estimate will come down over the next few months, at least, as management teams provide their outlooks for next year. There is anecdotal evidence that many institutional investors expect this.
There's a wide gap between earnings scenarios for next year
RBC Capital Markets stress test of S&P 500 earnings-per-share scenarios for 2020
Source - RBC Wealth Management, Bloomberg; data as of 9/5/19, 12:00 PM CST
The other, more realistic scenarios for 2020 are on both sides of RBC's $175 per share forecast, with the lowest scenario coming in at $169 per share. At this level, the S&P 500's price-to-earnings ratio of 17.6x is elevated, but is not sky-high.
Heed the signs
We remain cautiously constructive on global and U.S. equities given economic and earnings growth scenarios are still in view, and we believe the path to new highs remains open for most developed-economy stock markets. We still recommend Market Weight (benchmark) equity exposure.
However, if more U.S. recession indicators start to flash caution signs and/or the 2020 earnings outlook were to deteriorate notably, the risk-reward balance for equities would shift to less favorable terms. This would warrant defensive adjustments to equity portfolios.