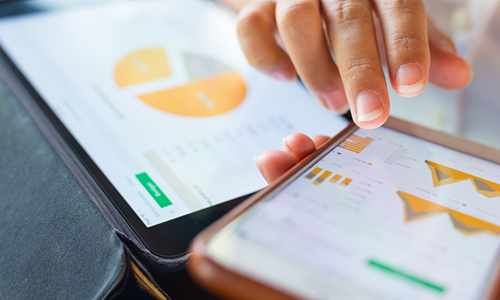 Equity markets worldwide have drifted back up to the top end of their recent ranges, with the S&P 500 tantalizingly close to a new all-time high. Stocks have climbed on progress toward a mini trade deal between the U.S. and China, light at the end of the long Brexit tunnel, and a good start to the Q3 earnings season.
We expect the Q3 earnings season will bring forth additional positive surprises. But the outlook for the quarter, and for earnings growth in 2019 and 2020, remains subdued. The U.S. economy and its peers around the world have more challenges to work through, including on the trade front, in our view.
As long as corporate earnings and other key economic indicators maintain even modest growth rates, we are comfortable holding equities at the Market Weight level in portfolios.
2020 estimate still seems too high, 2019 could be too low
S&P 500 consensus forecasts for annual earnings-per-share growth from May 2018 to date
Not on the verge of recession
It's been "so far, so good" in the early stages of Q3 U.S. earnings reporting season.
Select large banks, including JPMorgan Chase, Bank of America, U.S. Bancorp, and Citigroup, reported solid quarters. From our vantage point, if the economy was indeed on the verge of a recession, JPMorgan wouldn't have been able to deliver robust growth nearly across the board, and its CEO wouldn't have said the consumer "continues to be quite strong."
UnitedHealth Group, one of the prime targets of politicians who advocate "Medicare for all," blew past consensus forecasts and raised 2019 guidance. Johnson & Johnson had strong sales in its major segments.
These results, and others, lifted the S&P 500 consensus Q3 earnings growth forecast a bit to -2.9% y/y from -3.2% at the start of reporting season, according to Refinitiv I/B/E/S. Q3 revenue growth is pacing at 3.2% y/y, the lowest rate in three years.
Almost 83% of the companies that have reported thus far have exceeded consensus earnings forecasts.
There is downside risk to revenue forecasts
S&P 500 revenue growth (y/y) - actuals in gray; consensus ests. in blue
Source - RBC Wealth Management, Refinitiv I/B/E/S; data as of 10/17/19
What's holding back earnings growth?
As additional earnings beats are factored in, we think Q3 earnings growth will push into positive territory, albeit not by much. But there are three major factors constraining profits:
Energy is a lead weight. The 19% y/y decline in crude oil prices during the quarter has created a difficult operating environment. We expect the Energy sector to subtract two percentage points from S&P 500 earnings growth even though it represents a mere 4.3% of the index. This is a turnabout from a year ago, when the sector added four percentage points to S&P 500 profits.
Tech margins are coming off the boil. Due to the maturation of key businesses, the law of large numbers, and product cycles, our national research correspondent expects margins to contract at some large-capitalization Tech firms. In our view, this is nothing to be alarmed about and doesn't mark a major inflection point—it simply reflects the industry's natural lifecycle. Tech sector revenue growth is expected to remain sturdy.
And the same old same old. Sluggish global economic growth and pockets of domestic weakness are also factors. We anticipate some high-profile earnings misses from cyclical companies with overseas exposure in the Industrials and Materials sectors, and even in Tech. Some domestic retailers could stumble as well. All of this would be par for the course in an imperfect economic environment.
Some of these drags on earnings growth can be traced back to the U.S.-China trade dispute; other culprits are structural economic challenges in Europe and China. Even if the mini trade deal between the U.S. and China is inked as advertised, the trade-related headwinds will not all disappear, because tariffs would remain in place.
Corporate profit outlook: Subdued
RBC Capital Markets forecasts S&P 500 earnings growth in 2019 will be just 2.0% y/y, which equates to $165 per share. The consensus forecast is below that level at $163 per share.
For 2020, RBC Capital Markets' lukewarm outlook calls for $174 per share in earnings (5.5% y/y growth), which is much lower than the $181 consensus forecast. We take solace in the fact that institutional investors are largely looking past the optimistic consensus forecast and expect 2020 earnings to be at least a few dollars lower than $181.
In our view, the 2020 consensus earnings and revenue estimates should drift down further during Q3 earnings season as management teams issue guidance for the coming year, and this trend should continue in the months ahead during industry conferences and into Q4 earnings season.
Assuming the global and domestic economies continue to hold together, we think tepid earnings growth will be enough for the U.S. and other major equity markets to advance modestly.