In 2012, shortly after returning from his second deployment, U.S. Army Ranger Cory Smith took off on a 565-mile run from Fort Benning, Ga., to his hometown of Indianapolis. The goal of his 28-day journey was to bring awareness to the challenges many soldiers face when they return from service.
Inspired by Smith's determination to raise awareness, veteran-focused nonprofit GallantFew established the Patriot Challenge, an annual fitness fundraiser that supports veteran organizations across the country.
Individuals and teams raise money by logging at least 565 total miles during the 28 days of February. How participants complete their miles widely varies. Athletes can run, bike, swim or skate, and they also earn a mile for every 15 minutes of non-distance-related activity, such as weight lifting, yoga or CrossFit.
"The Patriot Challenge was designed to be a purpose-built fundraiser and fitness challenge that allows anyone, military or civilian, to show their support to American patriots," says Tony Mayne, director of the Patriot Challenge.
RBC Wealth Management – U.S. is a title sponsor of the fundraiser, and 75 employees across six teams nationwide participated in the challenge in 2021, raising over $25,000 and logging more than 7,500 miles.
RBC Wealth Management operations director Richard Ingalls lifts weights at RBC Plaza in Minneapolis. Photo courtesy of Coffee or Die
"The Patriot Challenge was a great opportunity to use something that I already do in a really positive way," says Richard Ingalls, an operations director at RBC Wealth Management. "I've never served in the military, but participating in this challenge helped me understand some of the causes that impact veterans and some of the challenges they experience."
A new fundraising record
A majority of the funds raised by Patriot Challenge teams support GallantFew's veteran transition support programs, with a portion of any funds beyond $1,000 donated to a veteran-focused charity of the team's choice. The RBC Wealth Management participants selected four nonprofits to support with their additional funds: Fisher House, Paws for People, Soldiers6, and the Three Rangers Foundation.
Even in the midst of the COVID-19 pandemic, the 2021 Patriot Challenge raised a record $466,000, an $80,000 increase over the previous year despite having 1,600 fewer participants. And social distancing restrictions led challengers to find creative ways to log their miles, including cross-country skiing, snowshoeing and walking their dogs. In all, participants logged a total of 288,639 miles.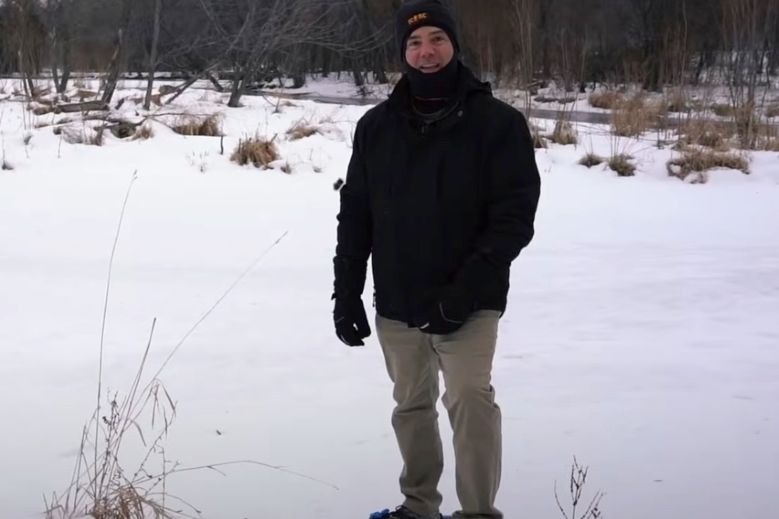 Mark Gorius, an RBC Wealth Management operations director, tracked some of his miles on snowshoes. Photo courtesy of Coffee or Die
"I tracked a lot of my miles on my basement elliptical machine, but on the weekends I tried to get outdoors," says Mark Gorius, an operations director for RBC Wealth Management. Gorius, an Army veteran, is chair of the firm's veterans-focused employee resource group.
The "Beasts of the East," a 38-member team based in the Baltimore area, tracked the most miles for RBC Wealth Management, logging 4,005 miles and raising nearly $21,000. Of the 277 teams nationwide that participated in the challenge, the "Beasts of the East" ranked fifth for money raised and 14th for total mileage.
"I am so proud of RBC Wealth Management employees' efforts in raising money and logging miles for the Patriot Challenge," says Pat Vaughan, East Division director at RBC Wealth Management and executive sponsor of the veterans-focused employee resource group. "We started with a goal of raising $5,000 and surpassed that within the first week. When you work together, you can make a difference."
Supporting Veterans
RBC Wealth Management is committed to improving the lives of veterans, active duty service members and their families. Learn more at patriotchallenge.org.